Should loans and credit cards ever be incentivised?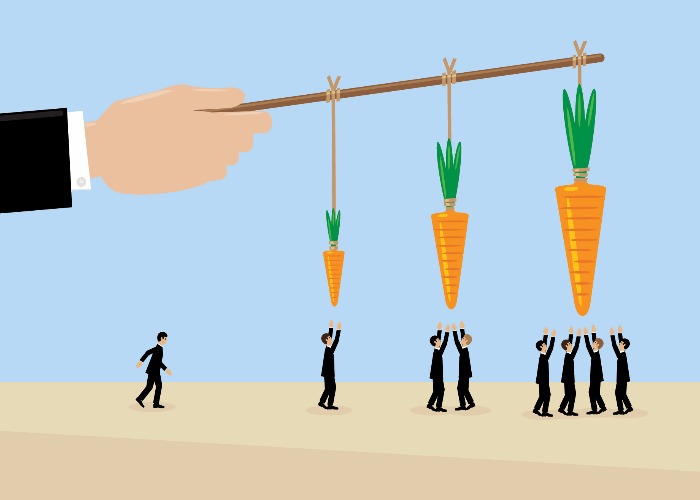 It's becoming increasingly popular for lenders to offer gifts and freebies. Is this unethical, or just a clever way for companies to make their products stand out?
Get a loan or credit card and you can bag a hotel break, free MOT or shopping vouchers.
The AA, John Lewis and M&S have been tempting potential borrowers with sweeteners including spa treatments, hotel stays, free MOT's and vouchers if they take out loans and credit cards.
Getting a freebie can be a bonus if you want the product but are lenders' gimmicks and incentives luring us into borrowing and spending more, which could lead us into debt?
Some 'incentivised' deals, like the John Lewis card, come with caveats like spending a fixed amount on your card, and that's aside from any small print which may mean you'll have to put in some legwork to claim your freebie.
Find the right credit card for your specific needs
A bonus for the money savvy?
Regular loveMONEY readers will know that we wrote about the John Lewis offer when it was first announced.
Our take on it was the offer was only worth going for if you were a regular John Lewis shopper so you could get full benefit from the card (while paying off the debt in full, of course!).
Ultimately, if it's a great deal then accepting a bonus shouldn't be a bad thing.
Of course, that's just one way of looking at it.
Are lenders luring us into debt?
Whatever the reason we take out credit, the fact is we're doing so with ever-more vigour.
According to the Bank of England, credit card balances, along with outstanding car and personal loans, have risen by 10% over the past year, while household incomes have risen by just 1.5%.
If loan and credit card companies offer 'free' benefits or cashback incentives, "customers should be very careful" warns Brian Brown, head of insight at financial information site Defaqto.
And Peter Tutton from the debt charity StepChange adds that gimmicks and incentives can be used as a distraction technique.
"We're concerned that vouchers or deals as a bonus inducement to take out credit could distract from the important thing that consumers need to look for".
Consumers should check both interest and repayment terms with credit cards and the monthly repayments, along with interest and charges on loans according to Brian Brown, "as it's quite possible the money you save with a cheaper lender will be more than any free giveaway is worth".
Compare loans: find the cheapest rate
How do 'gimmick' deals stack up?
Let's take a look at some of the most high profile incentivised deals and see how competitive they are.
In no ways is this a conclusive analysis of the market, but it does provide useful insight.
The AA is offering a free hotel stay and free MOT's if you take one of its personal loans, and until recently was offering a spa day.
Its current offer is available on loans from £1,000 up to £25,000 taken over one to seven years.
Borrow £7,500 or more with the AA and you'll pay 3% interest, one of the cheapest rates on the market.
However, this can still be beaten by Sainsbury's Bank and M&S, which both charge 2.8% interest on loans from £7,500 up to £15,000.
However, opt for a smaller loan of under £2,000, and the AA charge a whopping 17.9% interest; compared with Asda Money which charges a much more competitive 9.9% rate.
The John Lewis Partnership credit card offers £20 in Waitrose or John Lewis vouchers plus 2,000 points for new customers.
To qualify, you must apply before 28th November and spend at least £500, (or transfer a £500 balance), before mid-January.
It charges an annual rate of 18.9%, fractionally over the average credit card rate of 18% and comes with 0% for the first nine months on spending and 18 months for balance transfers.
The M&S Reward Plus card offers a £20 M&S voucher once you get a card and make a purchase within the first three months and comes with a 6 month 0% offer on new spending and balance transfers but, beyond that, you'll pay a 18.9% rate.
However there are far longer 0% deals on the market, but you'll have to sacrifice your £20 voucher!
Sainsbury's Nectar card offers 0% on new purchases for 32 months, (before reverting to 18.9%) plus Nectar points on Sainsbury's shopping.
And a host of other credit card providers, including Santander, Tesco Bank, and Halifax, also offer up to 30 months at 0%.
And with 0% balance transfer deals, you can bag up to 39 months with deals from Sainsbury's, Virgin Money and Tesco Bank.
Find the right credit card for your specific needs
'Freebies' can be hard to claim
If you're still swayed by a freebie, remember there may be hoops to jump through to get it.
The AA's 'free MOT' deal means a free MOT for the life of your loan; worth up to £54.85 a year.
But you can't necessarily go to your local MOT centre with this deal. According to the AA's terms and conditions, you'll need to use one of its 'participating' MOT centres, many of which seems to be at major dealerships rather than independent test centres.
And with its hotel offer, it's a one night stay at over 100 selected hotels, which must be booked via a special booking line.
But that one night stay could still put a dent in your bank balance as, while the 'night' may be free, the food isn't.
So unless you're planning on packing some sandwiches, you'll be paying 'hotel prices' if you want to enjoy drinks and a meal while you're there, so even a potential 'freebie' could prove costly.
Be the first to comment
Do you want to comment on this article? You need to be signed in for this feature