How to beat the pension withdrawal emergency tax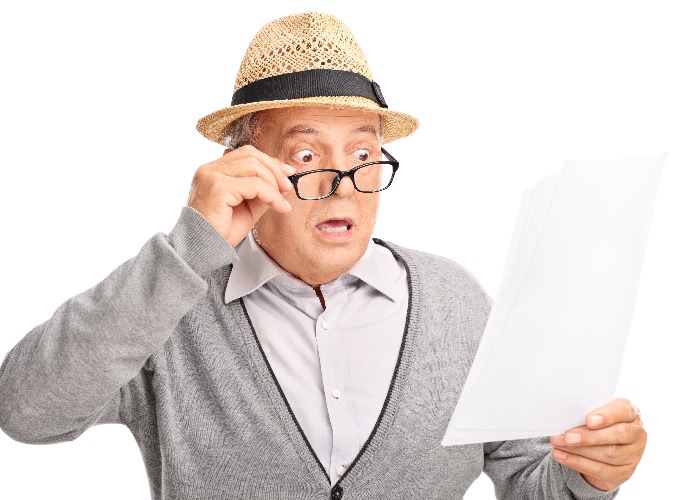 Here's how to avoid getting stung by an incorrect emergency tax bill when making a lump sum pension withdrawal.
Pension savers are getting stung by shock emergency tax bills thanks to a quirk in the system.
Unless a pension provider holds an up-to-date tax code, any lump sum withdrawals from your pension pot will be subject to Income Tax under the emergency rate.
The rule means many pension savers accessing their pots are overpaying tax, but there is a simple trick you can use to avoid the trap.
Take control of your pension with a SIPP
How it works
If it's the first time you are dealing with your pension provider, they probably won't have a tax code for you, so they won't know how much income you have from other sources.
In this case, you'll be given an emergency tax code, which works on a 'Month 1' basis and means the amount being withdrawn is treated as if it will be repeated each month.
Under this system, the pension provider will apply a twelfth of the personal allowance to the payment and consider the remaining payment against a twelfth of each of the Income Tax bands currently in force.
So, here's what you'd pay for a lump sum withdrawal of £50,000, where you get £12,500 tax-free and £37,500 is taxable.
| | | | |
| --- | --- | --- | --- |
| | Month 1 (1/12 of annual tax band) | Tax rate applied | Tax due |
| Personal allowance (£11,500) | £958.33 | 0% | 0 |
| Basic rate (£33,500) | £2791.67 | 20% | £558.33 |
| Higher rate (£33,500-£150,000) | £9708.33 | 40% | £3,883.33 |
| Additional rate (Over £150,000) | £24041.67 | 45% | £10,818.75 |
| | | Total tax due | £15,260.42 |
| | | Total taxable | £37,500 |
| | | Net amount | £22,239.58 |
| | | Plus Pension Commencement Lump Sum (PCLS) | £12,500 |
| | | Net paid | £34,739.58 |
Source: Royal London
As you can see on a £50,000 lump sum withdrawal, the total tax bill is a whopping £15,260 and from a £50,000 pot you get just £34,740.
You can see how big your tax bill is likely to be on pension withdrawals using the Hargreaves Lansdown Emergency Tax Calculator.
The trick to avoid a shock bill
This system for Income Tax has been in force for a while, but the 'Month 1' problem has been highlighted by the new pension freedoms.
Since April 2015 these have given those aged 55 or over the freedom to access their pension savings whenever they want, which the tax system isn't really set up for.
But there is a way around this tax nightmare.
Chris Dando from Burfield Financial Planning says he's advising his clients to take a small payment first and wait for the tax code to adjust before taking another one.
He told the Telegraph: "We are advising people to take a nominal payment. The first payment is taxed on an emergency basis as if it's a regular payment. So, if we take an initial £100 or even £1 then HMRC will be aware and change the tax code accordingly.
"This ensures the correct tax code is used from the first proper payment. The only downside is that it slightly delays the process, as it may be another three or four weeks before the correct code is applied to future payments.
"So people who are desperate to get their money might be better off taking the money on an emergency basis and then claiming the rest back later."
How to reclaim tax if you've already overpaid
If you've already been caught out by this tax trap you can wait for HMRC to move you onto the correct tax code for your provider to use for future payments or claim the tax back yourself.
There are three forms for reclaiming overpaid tax as the result of a lump sum pension payment, the P55, P50Z or the P53Z.
The P55 form is suitable for those that have made a partial withdrawal from their pension pot;
The P50Z is for those that have taken out their entire pension as cash and have stopped working;
The P53Z is for those that have taken their full pension pot as cash and are still receiving earned or other sources of income.
For more read our guide: Pension tax refund: how to reclaim money if you overpaid.
You'll need a Government Gateway account to fill in the appropriate form online or you can choose to submit it by post.
HMRC will refund overpaid tax within 30 days providing the correct form is submitted. If you don't make a claim you will eventually be refunded, though the timeline is less clear, so you could be waiting fo some time.
Take control of your pension with a SIPP
Up next:
Common HMRC tax refund scams: how to spot them
LoveMONEY election manifesto: combine income tax and national insurance
Be the first to comment
Do you want to comment on this article? You need to be signed in for this feature