Emergency savings fund: best easy access, Cash ISAs, branch savings, current accounts and more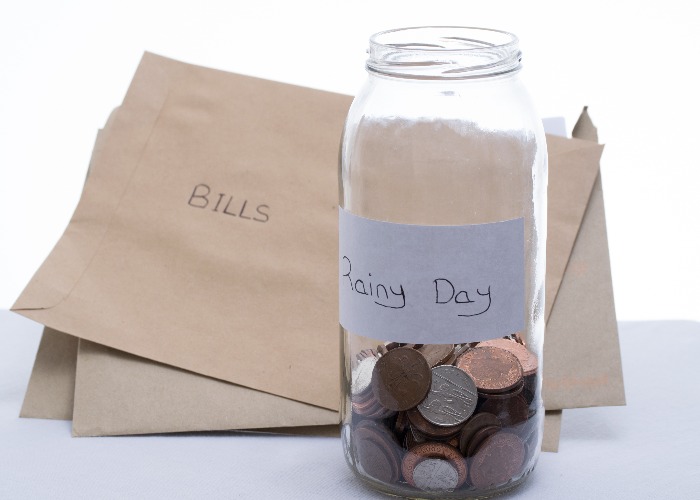 We look at the best homes for rainy day savings that offer easy access to your cash.
There are many good reasons for building up an emergency savings pot. You may need to fork out for an unexpected repair, cover an unusually high bill or you could lose your job or another vital source of income.
Debt charity Step Change suggests having at least £1,000 squirreled away, but it's generally recommended to set up an emergency fund that's equivalent to three to six months of your salary.
Whatever you've managed to build up for a rainy day you should make sure it's in a safe place and is easy to get hold of should you need it. That means many savings accounts like fixed-rate bonds and notice accounts aren't really going to cut it.
So here's a round-up of the five best types of accounts for your emergency savings and which providers are offering the top deals.
Compare savings accounts with loveMONEY
Easy access savings accounts
Easy access accounts offer you a place to save which gives instant access to your money, though some providers limit the amount of withdrawals you can make each year.
The best easy access savings account on the market right now is the RCI Bank Freedom Savings Account.
It pays 1.1% on balances from £100 up to £1 million and allows you to make as many payments and withdrawals as you like. You can manage the account over the phone, online or by post and interest is paid monthly.
RCI Bank is part of the Renault group and has been offering accounts in the UK since 2015.
UK savings with RCI are protected under the European Economic Area (EEA) passport scheme. This means that in the unlikely event of RCI going bust, savers would rely on the French deposit protection scheme which protects the first €100,000 (£85,000) of savings per person.
Take a look at The best instant-access savings rates for more accounts like this.
Branch easy access savings
You may be able to get a better offer through a branch savings account. These accounts are offered by building societies for customers that live in the local area.
The best on offer right now comes from Newbury Building Society with its Existing Members Account (EMA).
This pays 1.6% on balances from £1 up to £1 million, however, you are only permitted to deposit £4,000 each tax year. The account is available to existing customers that have been members for at least one year.
New customers can go for the Newbury Building Society Welcome to Newbury account, which pays 1.35% on £50 upwards.
Both these accounts are only available to people living in these postcode areas: AL, BA, BH, BN, BS, DT, EX, GL, GU, HA, HP, HR, KT, LU, MK, NN, OX, PO, RG, RH, SG, SL, SM, SN, SP, SO, TA, TW, UB, WD and WR.
Easy access Cash ISAs
Savers can now get up to £1,000 worth of savings interest tax-free each year thanks to the Personal Savings Allowance. However, it's still worth opening a Cash ISA if you haven't used up your allowance (£15,240 for 2016/17). That's because money saved in a Cash ISA can earn an unlimited amount of tax-free interest not only now but in the future when rates get better.
An easy access Cash ISA works like a normal easy access account, so can be a good home for emergency savings, although any money you put in and then withdraw can't be replaced.
The Post Office Online ISA is the best easy access Cash ISA deal around right now. It pays 0.9% on balances from £100 for 12 months. However, the rate drops to 0.25% after a year, so you should make a note to move your money somewhere better after this time.
Check out The best Cash ISAs for the 2016/17 tax year for more ISA options.
Regular savings accounts
One of the best ways to build up a rainy day savings pot is to use a regular savings account. These allow you to save a certain amount each month.
However, as you're only drip-feeding the money in, the amount of interest you earn isn't as good as depositing a lump sum and to access the top rates you normally need to be a current account customer.
First Direct, Nationwide, M&S Bank and HSBC all offer a regular savings account paying a market-leading 5% interest, however they all require you to hold a current account and only Nationwide allows easy access to the cash without sacrificing the rate.
The best rate not linked to another account that allows withdrawals is the Virgin Money Regular E-Saver. The account pays a fixed rate of 2.25% and allows you to save from £1 up to £250 a month until 20 February 2018.
For more of the best deals take a look at The best regular savings accounts.
Current accounts
Current accounts that pay in-credit interest could be another destination for your emergency cash.
The Santander 123 Current Account offers 1.5% on balances up to £20,000 and the TSB Classic Plus offers 3% on balances up to £1,500.
However, most require you to fund an account with a minimum amount, set up one or more Direct Debits and/or come with a monthly fee.
The Tesco Bank Current Account is one of the only current accounts that doesn't have any hoops to jump through.
It offers 3% on balances up to £3,000 guaranteed for two years until April 2019. Tesco says an individual can have up to two accounts so a couple could potentially earn 3% on £12,000 across four accounts.
For more on current accounts that can used as savings accounts read The best high-interest current accounts.
Compare savings accounts with loveMONEY
Don't miss these:
Tax on savings interest: everything you need to know
Financial Services Compensation Scheme cover: which banks are connected?
Be the first to comment
Do you want to comment on this article? You need to be signed in for this feature