Free prize draw: how to win £100 daily with loveMONEY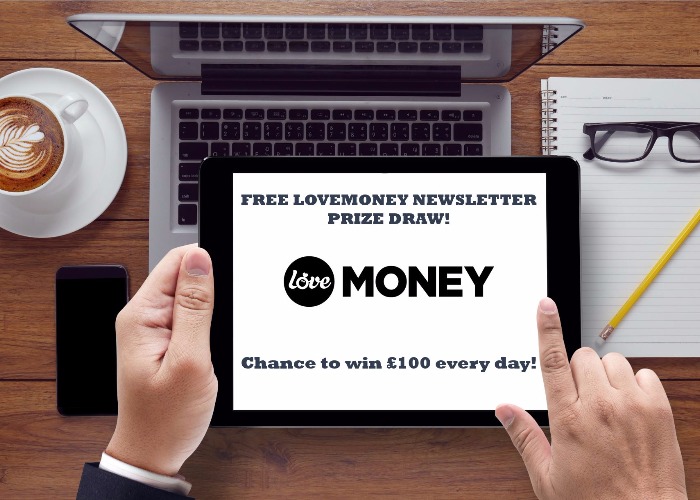 You could win £100 EVERY DAY just for being a loveMONEY newsletter subscriber!
THE DAILY DRAW HAS NOW CLOSED.
If you would like to enter our new £500 weekly prize draw, click this way for more information.
Fancy standing the chance to win £100 every day? loveMONEY is launching its free daily prize draw in a bid to reward readers both old and new.
It's completely free and only takes a few seconds to sign up.
Here's all you need to do:
1. If you're not already subscribed, enter your email address in the sign-up box on the right or in the red stripe at the bottom of this page to make you eligible for automatic entry (don't worry, you only need do this once).
2. Check the newsletter for your chance to be entered into the draw each day. To qualify simply click an article link in the daily newsletter to visit the site and gain automatic entry.
That's all!
If you're looking for more ways to boost your bank balance, why not take a look at our brilliant money-making and money-saving guides?
Terms and conditions
I. Within this document, any references to Love Incorporated, the publisher of loveMONEY, refer to loveMONEY, Lovemoney Financial Services, and any other publication or platform owned by Love Incorporated.
II. All entrants must be over the age of 18 at the time of entry and be a UK resident.
III. Love Incorporated reserves the right to end the daily prize draw without notice.
IV. This competition is run by Love Incorporated, the publisher of loveMONEY.
V. Competitions are not open to Love Incorporated employees, their families or friends, nor any other organisation directly involved with this competition.
VI. Entrants can win a £100 prize daily, to be paid via PayPal. If they do not wish to receive such a payment, they can opt for a £100 Amazon voucher of the same value.
VII. To win, entrants must have an active email address.
VIII. Entries are limited to one per person, per day.
IX. Winners will be selected randomly.
X. Sponsors do not have access to any personally identifiable information, and will not use any personal information for marketing purposes.
XI. Entrants agree to be contacted by Love Incorporated for the purposes of this competition, and any further information that may further interest them. Entrants may easily unsubscribe from Love Incorporated communications at any time by following clear instructions contained within the communications.
XII. Winners will be notified via email within seven days of their address being randomly selected as the winner of a daily draw. Once contacted, winners have 14 calendar days to respond in order to claim their prize. Failure to respond within 14 calendar days will result in forfeiture of the prize and an alternative winner being selected from the initial day's draw.
XIII. Entrants agree that any failure in the delivery of communications relating to this competition are not the responsibility of Love Incorporated. Love Incorporated cannot be held responsible for delays, or any other inconvenience and/or failure in communications relating to this competition.
XIV. The judges' decision will be final, and no correspondence will be entered into.
XV. By entering the competition, winners agree to participate in such promotional activity and material as Love Incorporated may require.
XVI. All entrants agree to read the loveMONEY privacy policy, disclaimer, cookie policy, and terms of use prior to entering the competition.
XVII. The daily prize draw is a temporary promotion. The end date for the competition is 07/05/2017.
XVIII. Love Incorporated reserves the right to amend these rules at any time, and all entrants should be aware that these rules are not conclusive.
Be the first to comment
Do you want to comment on this article? You need to be signed in for this feature