Every year, more and more shoppers are ditching the traditional mega supermarkets to do their shopping at discounters such as Aldi.
A big selling point of shopping at a discounter is of course the fact that it offers you the chance to significantly cut the cost of your food shop.
But there are extra steps you can take, and tricks you can use, to ensure you spend even less at Aldi.
Check out Super Six & Super Weekly Offers
Aldi regularly unveils six cracking deals on fruit and vegetables, which can come to just pennies.
For example, at the time of writing, you can help yourself to a whole mango for 59p and 250g of chestnut mushrooms for 59p. You may also be able to snap up 'wonky' veg for a bargain price.
Aldi also has Super Weekly Offers, which are usually special deals on meat, including 1kg of pork loin medallions for £5.99 (available at the time of writing).
Be sure to snap them up!
Read our weekly roundup of the best supermarket deals
Cash in on Specialbuys
Twice a week, Aldi unveils a set of themed discounted deals, offering shoppers the chance to enjoy even bigger savings on everything from DIY and gardening to beauty and baby products.
You can find bargains on everything from pet grooming products to craft supplies - but buyer beware, these aisles are an impulse purchase waiting to happen and can be hard to resist.
Popular items can go pretty quickly, so bear in mind that Thursday Specialbuys hit the aisles at 8am and Sunday deals are available from 10am.
Stay informed
If you want to keep ahead of the crowd, then it's well worth signing up for Aldi's newsletter, which will inform you of current and upcoming Specialbuys.
Similarly, the discounter has an app that's available on both iOS and Android. You can sign up for notifications so that you know exactly when specific items go on sale.
The cheapest UK supermarket revealed
See red
Generally, you don't want to see red at the supermarket, but at Aldi, we'll make an exception. That's because the store uses red stickers to flag its big discounts, meaning the item is discounted by up to 75%.
Aldi marks down perishable products before their sell-by date before stores close, as well as items with damaged packaging.
Unfortunately, the time that items are reduced varies by store and are on a first-come, first-served basis.
So, keep an eye out for red stickers while you're cruising the aisles and you may just pick up a stonking deal.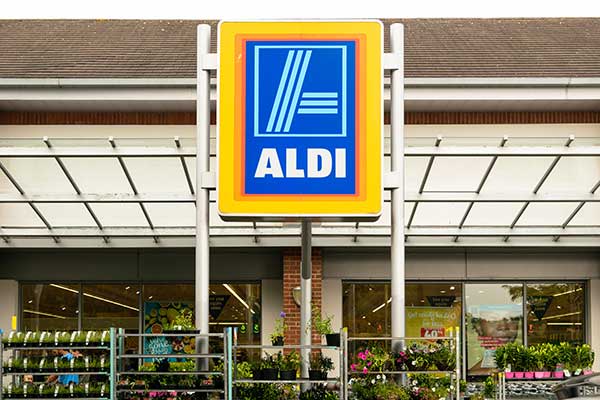 Trust in the own-label goods
Unlike other supermarkets, you won't find many brand names at Aldi. The vast majority of the products at the grocer are what's known as 'private label.'
Don't be fooled into thinking these items aren't up to scratch though ‒ at a recent own-label award ceremony by industry guru The Grocer, Aldi won several awards.
Avoid the crowds
If you go to a budget supermarket during peak times, the crowds can throw you off your bargain hunting game, so try to plan to go when it will not be so hectic.
The busiest periods tend to be Saturday mornings or on Thursdays and Sundays when the Specialbuys go on sale.
Aldi has also revealed the busiest and quietest times to visit throughout the day, which you can check out below.
Go online and get free delivery
If you don't fancy battling with the crowds, remember that you can order online.
Aldi offers delivery for Specialbuys, which is free if you spend over £30. It costs £2.95 if you don't spend enough to qualify for free delivery, or more if you're getting wine or larger items delivered.
It also costs more to get your delivery on a named day, the next day or a Saturday, but it's a useful way to try to secure that Specialbuy that's caught your eye.
Alternatively, you may be able to use Click & Collect (all slots cost £4.99) but a minimum basket threshold may apply.
Stock up on your favourites
Like most no-frills retailers, Aldi rotates its selection, so what is on the shelf today might not be there next week.
When there's something you really like in stock, and it will keep, it might be worth buying it in bulk.
Maximise your cashback
American Express has long offered some of the best cashback credit cards on the market. The downside, as anyone who owns one will tell you, is that there are loads of major stores that don't accept Amex.
Thankfully, Aldi does accept the cards, so you can enjoy up to 5% cashback on your shop.