A Fool's Guide To Storm-Proofing Your Home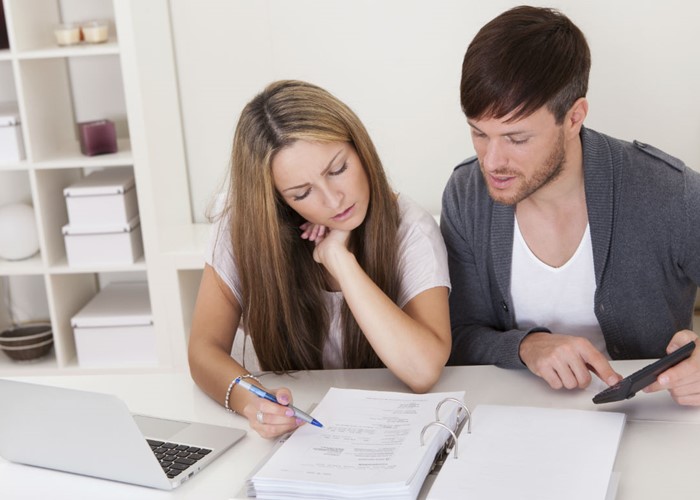 A storm could seriously damage your property.
Storms across many parts of the UK caused havoc for many homeowners earlier this year, and with the Met Office forecasting more cold spells and bad weather in the weeks to come, now is the time to take steps to protect your home.
In March this year, many households were left struggling with the after-effects of the damage when severe windstorms of over 80 mph battered many parts of the country. And 2007 saw one of the worst weather events of the last 50 years when the Kyrill storm caused £350m of damage, resulting 11 deaths.
As any homeowner left devastated by the path of such destruction will testify, our homes are very exposed to the elements. 
For this reason, it's crucial not only that you have adequate cover in place, but also that you give your home a "storm MOT" to reduce the risk of weather-related damage.
Are You Covered?
While household insurance covers damage caused by certain bad weather conditions, there is also a responsibility for homeowners to keep their properties in a good state of repair.
Buildings insurance will cover damage to the structure of a home, domestic outbuildings, paved terraces, drives and paths caused by flood and storm, but cover is generally not provided for damage caused by heavy rain or high winds.
One option is to bolt home emergency cover onto your home insurance.
With Esure for example, adding home emergency cover to a home insurance policy costs £3.75 a month, and offers cover should a home emergency occur following problems with roof damage, plumbing and drainage, the main heating system, the domestic power supply, and home security. The policy pays up to £500 per claim for the call-out charge, and covers up to two hours labour costs and up to a maximum of £100 for parts and materials.
Elsewhere, Halifax provides home emergency cover for around £4 extra a month, and this provides protection for a wide-range of emergency repairs and guarantees the provision of an approved tradesperson to make your property safe within hours.
Policies can, however, vary considerably between providers, so make sure you read the small print.
Take Steps To Protect Your Home
The greatest risks from storms arise from problems with falling trees, falling masonry and dislodged roof tiles, as these can lead to water getting into the property, damage to nearby cars, or even injuries to passers-by.
This is why it is so important to protect your home through regular maintenance and upkeep.
As a matter of course, you should clear your gutters, drainpipes and air bricks on a regular basis, removing any leaves or debris that have built up to reduce the risk of blocks and overflows; also check for leaks.
Ensure that the roof is in good condition and well-maintained -- the roof and infrastructure beneath it are the home's most critical defence against strong winds. Check for cracks in the chimney or problems with the pointing and make sure there are no roof tiles flapping around. Hire a professional roofing contractor to carry out any work as soon as possible.
Check for loose or rotten tree branches, and if you are aware of any that look unsafe, contact a tree surgeon to check them before they fall down. If one lands on your neighbour's property you could be liable.
Fences or boundary walls are often the first thing to collapse in strong winds, so check they are stable -- especially as your insurance policy may not cover this damage. If you're worried, get a builder to check and correct the condition of any suspect brickwork or masonry, particularly if it borders an area where people walk. Hedges also tend to be excluded from standard cover, so remove any dead branches and lop off overgrown foliage.
If you find your home under threat from windstorm damage, you need to secure any objects which could become hazardous, such as garden furniture, barbecues, children's toys and bikes. Most policies do not cover items such as these if they are damaged by a storm or wind, so store them in a strong, secure shed or in a place where you can secure them effectively. Keep all gates and outbuilding doors fastened securely.
Be Prepared
Keep a home emergency "storm kit" ready if storms, strong winds or heavy rains are forecast, including torches, a battery-powered radio, a spare phone battery, first aid kit, blankets, a shovel and gaffer tape for broken windows or emergency repairs. Also make sure you have your home insurance documents and a list of emergency numbers to hand.
Dealing With The Damage
If you do fall victim to storm damage, you should contact your insurer immediately for assistance.
A thorough inspection of your home from ground level will need to be conducted, but only look for damage once it is safe to do so; do not attempt to inspect the damage by using a ladder while the rain and wind persist.
Your insurer may agree to you carrying out certain emergency repairs before the representative has visited the property, but you will need to check this.
Make sure you keep receipts from your emergency repairs and where possible, get an additional quote to you know you are paying a fair price.
Be aware that you may have to pay an excess to the repairer.
Do not throw damaged items away, as you will need to show them to the insurance representative so they can organise an equivalent replacement. Taking photos of items that need emergency repair can also help.
Prevention Is Better Than Cure
With home emergencies, prevention is better than cure, so check you've got a comprehensive home insurance policy and spend a little time now preparing for the coming bad weather, and you could save yourself a lot of time -- not to mention money-- in the long run.

> Compare home insurance at Fool.co.uk
Be the first to comment
Do you want to comment on this article? You need to be signed in for this feature