GE Direct launches 18-month fixed rate savings bond paying 2.9%
Do you want to save this article to read later? You need to be signed in for this feature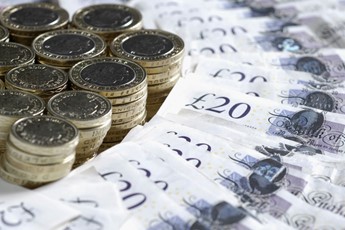 Savings rates on short-term accounts have been falling across the market, so should you be investing your cash for a longer period?
GE Capital Direct (GE) has launched a market-leading 18-month savings bond paying 2.9%.
In an environment of high inflation and a rock bottom base rate, a savings account paying a decent rate is hard to come by.
So that's why this new deal from GE looks competitive, though it will only suit people who are able to lock their money away for the duration of the bond.
The deal
Anyone can open this account with GE, which is suitable for those saving over the medium term.
To open it, you'll need to deposit at least £1,000 and you won't be able to add or withdraw from this account for the 18-month term.
GE's bond is offering the top rate of interest on accounts of this length, though unfortunately that's not saying a lot - there aren't a great deal of other accounts to compare it with.
Next in line is an account from Metro Bank which pays 2.75% on an opening deposit of £500, joint with a Sharia-compliant account from Bank of London and the Middle East at the same rate but with a hefty £25,000 opening deposit.
After these two, rates drop significantly to the Barclays 2.35% account which you can open with £1.
One-year accounts
For those savers who need access to their cash sooner, but not instantly, a one-year bond is a better option. That's because you'll get a slightly higher rate of interest.
There are four accounts paying 3% at the moment from FirstSave, State Bank of India and Shawbrook Bank. These vary in the amount you need to deposit as can be seen in the table below.
The best one-year fixed rate bonds
| | | |
| --- | --- | --- |
| Account | Rate | Opening deposit |
| FirstSave: One Year Fixed Rate Bond Issue 22 | 3% | £1,000 |
| State Bank of India: Hi Return Fixed Deposit | 3% | £1,000 |
| Shawbrook Bank: One Year Fixed Rate Bond Issue Three | 3% | £5,000 |
| FirstSave Postal: One Year Fixed Rate Bond | 3% | £25,000 |
| ICICI Bank UK: Fixed Rate Account | 2.85% | £1,000 |
Two-year fixed rate bonds

If you're happy putting your money away for two years, the rates on offer are even more attractive.
There's State Bank of India for example offering a rate of 3.5% if you put away £1,000 followed by 3.03% from Islamic Bank of Britain and 3% from Tesco.
These pay quite a bit more and you only need to lock the cash away for six extra months compared to the GE bond to benefit.
The best two-year fixed rate bonds

| | | | |
| --- | --- | --- | --- |
| Account | Rate | Opening deposit | Access |
| State Bank of India: Hi Return Fixed Deposit | 3.5% | £1,000 | Branch, post |
| Islamic Bank of Britain: Sharia's compliant Fixed Term Deposit | 3.03% | £1,000 | Online, phone, branch, post |
| | 3% | £2,000 | Online, phone |
| Shawbrook Bank: Two Year Fixed Rate Bond Issue Two | 3% | | Online (opening), phone, post |
| Chorley & District: Two Year Tracker Bond Issue One | 3% | £1,000 | Branch, postal |
What are the other options?
In the first instance a cash ISA is generally the best option for savers as any interest you make is tax free, up to the limit of £5,640 for this year.
In the instant access market things are pretty dire at the moment. Rates have been plummeting for quite some time and it's now tough to find a rate above 2.5%.
Right now the top account comes from the West Brom BS and pays a measly 2.52%. After that there are two accounts from Derbyshire Building Society, at 2.5% on a deposit of £1,000 and Nationwide Building Society at the same rate.
These accounts work if you need instant access to your money, without any withdrawal penalties, but the rates are not particularly tempting as you can see from our comparison tables. Read Is there any point opening an easy access savings account? for more.
More on savings:
The top telephone and branch-based savings accounts
The best instant-access savings accounts
Yorkshire launches savings account that helps the RSPCA