Edwina Currie is part of the UK's debt problem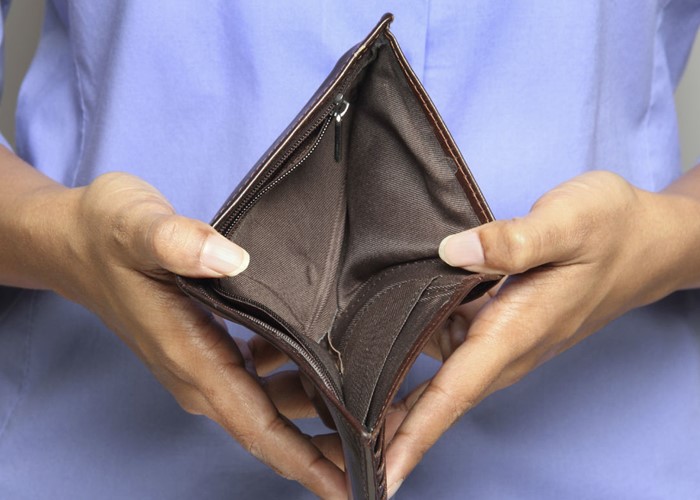 Facing up to poverty and debt is hard enough without Edwina Currie belittling you live on national radio.
She had it all figured out. Instantly.
Former Tory MP Edwina Currie's first question to Hayley Sanderson, a struggling young mother who had phoned 5 Live to discuss her financial problems was somewhat off-kilter: "Have you by any chance got any animals, a dog or anything?" Her second question was equally pointless: "you feed the dog every day?" What answer did she expect? "No Ms Currie, Rover has his own diner's club card."
From here, one almost expected the former minister to prescribe flogging the family pooch. Or eating it.
Yes, Edwina – seemingly riding high on an attitudinal wave of daytime TV detective dramas – clearly thought this was an open and shut case. The verdict: the mother – who works two jobs, has a partner who had recently lost his job and claims to regularly miss meals so her children could eat – had been living 'the good life' without any thought of the future.
At this point, Miss Sanderson broke down into tears.
But beyond the vitriol of the former MP's bulldog attack lurks a more sinister view towards UK poverty. An attitude that, far from the 'cruel to be kind' approach many may ascribe to it, is in fact a major barrier that prevents people every day from dealing with their debt problems.
Does poverty exist?
Edwina Currie is no stranger to controversy where poverty is concerned. Back in October 2011 she claimed that no one in Britain was really going without food. She did concede that some "real people" were starving in the world, but they were not in the United Kingdom.
This assertion swiftly feeds into the (self-defined) 'Africa argument': whereby groups of usually well-heeled individuals claim that those moaning about poverty in the UK don't know what they are talking about, as everyone in Africa is far worse off. (This is often accompanied by visual proof courtesy of their son or daughter's gap year.)
But a swift look at just three recent studies turns this argument on its head and into a straw man.
Firstly, the netmums study that was the subject of the 5 Live discussion. Its main findings include that 70% of families are currently 'on the edge' of surviving and that one in five mums were missing meals to feed their children.
Secondly, October's research by the widely respect Institute for Fiscal Studies (IFS) stating that in 2010 2.1 million working-age parents were living in absolute poverty. The think tank also forecast that by 2013 3.1 million children would be in poverty across the UK – an increase of 600,000 in just three years.
And finally, a report issued by the charity Shelter in the very same week as the IFS data stating that 38% of families with children who rent privately have cut back on buying food to help pay rent.
The situation in Africa may be terrible and worthy of our attention. But it doesn't have anything to do with these home-grown problems.
However Currie was right about one thing. Although, perhaps for the wrong reasons.
Credit boom
Turning back to the 5 Live debate, the former minister seemed to think that Miss Sanderson had splurged on credit in the boom years and was now paying the price. In fact, as the mother attempted to explain, the 'bills' she was currently paying off were for energy and council tax from the period when her partner was unemployed. Hardly luxuries.
Yet one fact not mentioned on 5 Live does support Currie's wider point. According to the Daily Mail, Miss Sanderson and her partner have a mortgage on a two-bedroom terrace home costing £450 per month that they are in arrears on.
Now, my word limit is looking a little cosy for a full ding-dong over who to blame for the lax lending of the housing bubble (although I'm sure you'll oblige in the comment box below). But outside of this argument, Miss Sanderson's property arrangements are indicative of a post-credit boom population suffering the growing pains of living within their means.
Millions who were wrongly granted credit in the early noughties are suffering. The toxic practice of rate jacking, whereby a lender hikes the interest rates for customers with dodgy credit histories, is the perfect example of this catch-22 situation. The poor get poorer while Edwina Currie sneers away because they have a dog and once took out a credit card.
Prove that you're poor!
Observer columnist Barbara Ellen hit the nail on the head on Sunday when she placed Edwina Currie's comments within a wider culture that requires poverty not only to be provable, but also highly visible in a 'theatrical way'. Exorbitant energy bills and rising food prices are not good enough anymore. Again: how can you be poor if you have a dog?
This wouldn't be a problem if the culture was restricted to doddery gentleman's clubs, decrepit public houses and the set of Top Gear. But it has now gained such traction in public life that those it speaks of: the poor, have fallen victim to it. Those that need the help, aren't asking for it – trapped in an illusion that their situation isn't that bad.
A survey carried out last year by the New Policy Institute (NPI) found that millions were missing out on help with energy bills because they didn't think benefits were for 'people like me'. The problem is now so severe that British Gas has even begun paying people to hand over the names of struggling households who are in need of help with insulation.
The NPI report also found that 31% of under-70s said they were too embarrassed to claim benefits. Embarrassment breeds a head-in-the-sand culture when it comes to debt. Instead of turning to charities like the CCCS, National Debtline or Citizen Advice and sorting their finances once and for all, people bite their tongue and poor another dinners worth of cornflakes, thinking themselves lucky that they have that.
Hayley Sanderson fits slap bang in the middle of this: receiving no benefits and no idea of any debt helpline numbers.
People shouldn't be starving in the UK – we have a welfare state and charity sector most other countries can only dream of. And yet they still are.
The requirement of people like Edwina Currie that a certain level of self-flagellation is reached before you're granted the status of poor is to blame for this.
Selling the dog is no way out of poverty.
More: We all need to scrounge more | How do I get out of debt?
Be the first to comment
Do you want to comment on this article? You need to be signed in for this feature