Starling Bank review: what does it offer on current accounts, personal loans, overdrafts?
Thousands of customers are switching their current accounts to Starling Bank. We take a look at what's on offer and whether it's worth following suit.
Starling Bank is on the rise.
According to the most recent quarterly data from the Current Account Switch Service, the bank saw a net increase of 15,153 new bank account switchers in the second quarter of 2020.
It's been a similar story in previous releases too, with the bank seeing striking new numbers of customers signing up to its services and it now has more than 1.6 million UK account holders.
So what is it about Starling Bank that's proving so popular? Is it really any good?
Let's take a look through what it actually offers.
How to bank without branches
It's worth pointing out from the outset that Starling Bank is a digital bank.
There are no branches to visit so your account is managed entirely from your smartphone or desktop.
This does put some people off, as they worry about how they can handle the usual branch business, like paying in cash and cheques.
But in practice it's actually really easy ‒ if you need to deposit cash you just need to head to your local Post Office and do it there.
With cheques, you can actually deposit the money using your mobile phone, without even needing to leave the house.
You simply take a photo of the cheque, and so long as everything is ok the money should appear in your account within a couple of days.
There are limits to bear in mind though. Cheques deposited through the app are limited to £500 in value, while you can also only deposit up to four cheques per week.
If you need to deposit more then the bank suggests popping them in an envelope, with your surname and account number written on the back of each cheque, and posting them to 'Freepost STARLING'.
Current accounts
The best place to start is Starling Bank's range of current accounts, and specifically its award-winning personal account.
It's a free account, with no fees charged for making electronic payments, domestic transfers or ATM withdrawals.
It also pays interest on your balance, an increasingly rare feature in the current climate, though it's a very modest rate of 0.05% on balances of up to £85,000.
Let's be honest, you aren't going to get rich off the back of that, but it's better than nothing.
There are overdrafts on offer too, with interest charged at either 15%, 25% or 35% depending on your credit score.
There are no additional fees or charges for dropping into the red, while you can actually reduce the size of your overdraft facility ‒ for example if you don't really need it ‒ through the app.
Again, if you are likely to need a dedicated overdraft facility it's not the best.
Other accounts, such as the 1st Account from first direct, offer overdrafts which are entirely free up to a certain point and will work out better value if you do tend to drop into the red.
You can get the same features in a joint account too, if you prefer to bank with your other half.
Starling also offers a free teen account for 16 and 17 year olds, which also pays a rate of 0.05% on balances, if you want to give your older kids a little more freedom with their cash.
It's also just launched Starling Kite to help children aged between six and 16 get comfortable managing their pocket money while you oversee the whole thing.
It comes with a £2 monthly fee per card.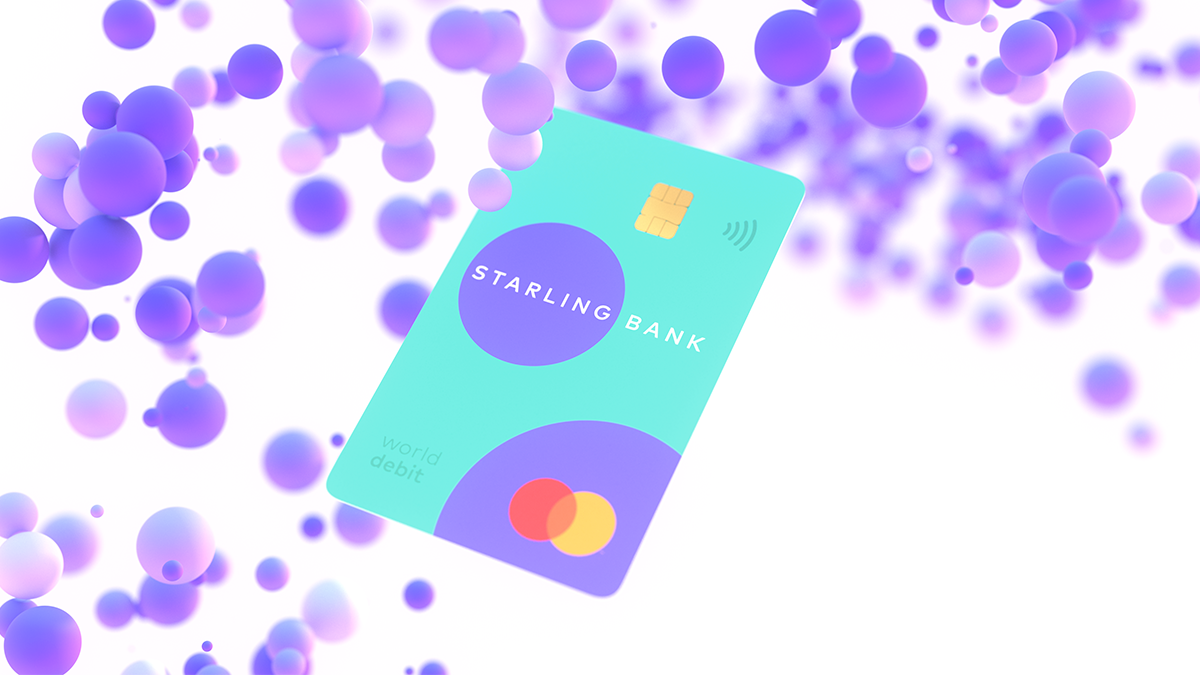 Spending overseas
Perhaps the big selling point of Starling Bank's accounts is the fact that they're a cracking option if you need to use it while you're abroad.
There are no fees or charges for ATM withdrawals or purchases when you're outside the UK, so it's great for people that holiday a lot or have to travel for work.
In addition, when you spend overseas, the currency conversion is handled at MasterCard's exchange rate. That means that you aren't getting hit with a shady exchange rate, with the bank taking a bigger than necessary slice.
This is one area where the challenger banks, like Starling and Monzo, are really outdoing their high street rivals and deserve praise.
It's also worth noting that Starling offers a free dedicated Euro account, which could come in particularly useful if you have friends or family on the continent who you regularly send or receive money from.
It charges a manageable conversion rate of 0.4% on all transactions and there are no other fees to look out for.
However, it's best not to hold too much money in the account, as Starling charges a negative interest rate of -0.5% on all deposits over €50,000.
Setting goals
A useful part of Starling's accounts is the ability to set 'goals' within your account.
You can then effectively ringfence money in your account to go towards that goal, so that you can't tap into it when out and about.
For example, let's say you've got a big holiday planned that you need to save up for.
You can set a holiday goal and then put £100 a month aside towards the cost of it.
You can even have a several different goals running at the same time, while you can set notifications to keep you on top of how you're progressing with the goals.
I think it's a smart little feature, making it easy to save for specific reasons without needing separate accounts.
Getting into the saving habit
Another nice feature of Starling Bank is that it can help you get into the savings habit, without even realising it.
You can set your account to round up all of your purchases to the nearest pound.
That additional cash is then transferred into a goal of your choosing.
It may not seem like much, but all of those pennies can swiftly add up and help you reach your savings goal that much quicker.
Read: how I saved £1,000 using financial apps
Can I get a loan?
Starling Bank also offers personal loans, which are effectively tied into your bank account with the firm.
Basically, if you are approved for an overdraft with the bank, you'll be provided with a facility worth a specific amount based on your credit rating.
As an illustration, let's say this was £5,000.
Now you might not be using all of it (or even any of it), but need to take out a loan to cover some larger spending like a new boiler.
With Starling Bank you can borrow the amount you have unused in your overdraft facility.
So with that £5,000 overdraft, if you're in credit, then you can borrow the full amount. Loans are offered at a representative APR of 11.5%, with the actual rate you're offered varying depending on your personal circumstances and they are available over terms of up to five years.
While this is pricier than the market leaders, the process of getting the loan – and understanding how much is available to you – is pretty straightforward and so will appeal to those who don't want to go through the hassle of applying for a new loan elsewhere.
Is my money safe with Starling Bank?
Starling Bank is a member of the Financial Services Compensation Scheme (FSCS).
This is an important safety net, which protects the first £85,000 you save with any banking institution covered under the scheme, so if the bank goes bust you will get your money back up to that limit.
Be the first to comment
Do you want to comment on this article? You need to be signed in for this feature