Delivered recipe boxes: what's on offer and could meal kits save you money?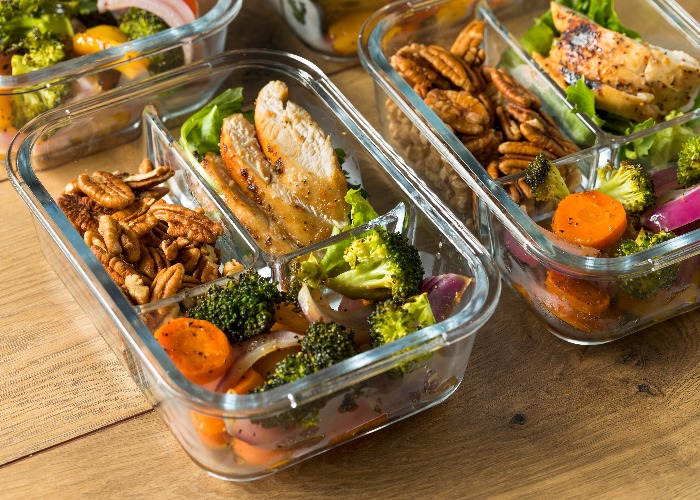 We look at a variety of services that deliver recipe boxes and meal kits to your door to see whether they could save you money.
Recipe delivery boxes
It's often difficult to find the time to prepare healthy meals at home, and companies are tapping into that with a range of recipe and meal delivery services.
Falling somewhere between a takeaway and a supermarket delivery, recipe and meal deliveries help you put together a nutritious dinner, usually without having to go to the supermarket or even measure out the ingredients.
We've looked at some of the services on offer to see what they provide, how convenient they really are, and how they stack up price-wise.
HelloFresh
HelloFresh offers fresh ingredients for its recipes delivered to your door.
Everything is already portioned to save time on meal prep, so you just cook it from scratch yourself.
The company claims to test every recipe 200 times 'to ensure deliciousness and simplicity' and it aims to make all of its packaging with recycled materials.
Recipes
HelloFresh offers different recipes depending on which box you opt for:
Family (suitable for adults and kids, plus there are two one-pot meals to save on washing up);
Classic (British and world cuisine with veggie and balanced options and the ability to set preferences e.g. pork-free or low calorie);
Rapid (each dish takes less than 20 minutes).
The menu changes on a weekly basis, but it's currently offering up herby beef burgers with potato wedges and chimichurri tomato salad, speedy BBQ sausages, and superquick beef ragu.
For the family and classic options, you are able to choose the recipes that you get, whilst the contents of a rapid box is chosen for you to make the process even quicker.
Do you need any extras?
HelloFresh specifies that the only ingredients you need to already have in your cupboard are cooking oil, butter, salt, pepper and sugar.
Everything else will come packed in an insulated cool bag.
Prices
You can choose options for two to four people, and you can choose to have three to five different recipes a week delivered.
| | | | |
| --- | --- | --- | --- |
| Number of people | Three recipes a week | Four recipes a week | Five recipes a week |
| Two | £5 / meal | £4.37 / meal | £4.20 / meal |
| Three | £4.67 / meal | £4.08 / meal | N/A |
| Four | £3.83 / meal | £3.44 / meal | N/A |
HelloFresh doesn't currently have any trial or new member offers available.
Delivery
HelloFresh delivers to most parts of the UK, and unlike most of the services we've looked at, it also covers islands. This does not extend to the Scottish Highlands and islands, however.
There is a full list of postcodes that HelloFresh will deliver to here.
Subscription
HelloFresh assumes that you will have a weekly delivery and if you don't want this to be the case, you need to make sure that you skip a week's delivery at least five days before it is due to arrive.
As specified in the HelloFresh terms and conditions: "By subscribing to hellofresh.co.uk you are agreeing to pay recurring periodic subscriptions for an indefinite time until deactivated by you or us."
In order to cancel your subscription, you need to head to your online account and select 'cancel my subscription'.
To ensure you aren't charged, you need to complete the process by midnight on the Wednesday before the following week's delivery.
Sample recipe
Recipes from HelloFresh are not freely available on the website, so we were unable to compare the price of one of its boxes with buying the ingredients individually.
HelloFresh is ideal for...
People who enjoy cooking but have limited time. It lets you cook your meals from scratch but saves you the task of buying all of the ingredients, whilst also saving you from wasting any food.
Gousto
Gousto is one of the best-known recipe delivery services and it is similar to HelloFresh in that it provides you with everything you need to make a meal according to the recipe cards you have chosen.
All of the ingredients are weighed out and you only get what you need, which means that you save time on prep and nothing goes to waste.
Recipes
There are 50 recipes for you to choose from, ranging from chicken teriyaki with mangetout to homemade chicken goujons and cheesy beans.
A number of recipes have also been put together by Joe Wickes, the fitness guru behind The Body Coach and seven best-selling healthy cookbooks.
Do you need anything extras?
There are some basic ingredients that you'll need to have at home to prepare Gousto meals, such as salt, pepper, oil, sugar and butter.
To avoid being caught out, pay close attention to the 'additional items' when you're picking the recipes you'd like to order.
Prices
When selecting your meals you can opt for a two-person or four-person box, and the more portions you buy, the less it costs per person.
Two-person box:
| | | |
| --- | --- | --- |
| Number of recipes | Price per serving | Box price |
| 2 | £6.25 | £24.99 |
| 3 | £5 | £29.99 |
| 4 | £4.37 | £34.99 |
Four-person box:
| | | |
| --- | --- | --- |
| Number of recipes | Price per serving | Box price |
| 2 | £3.97 | £31.75 |
| 3 | £3.56 | £42.75 |
| 4 | £2.98 | £47.75 |
You can get 50% off your first box when ordering from Gousto, and 30% off all other boxes in your first month.
Delivery
Gousto offers free delivery seven days a week and for £2.99 you can choose a time slot for your delivery to guarantee that you'll be in.
There's also the option to have your food dropped off at a designated 'safe place' if you know that you might not be in to receive it.
Gousto delivers to most UK addresses, but there is a list of excluded postcodes on the website.
Subscription
You can choose from weekly, fortnightly, or monthly deliveries.
Gousto also has flexible subscription options in that you can pause it to stop your deliveries, or you can skip a box, which means that you'll miss a delivery but then they will continue as normal for the next delivery.
It's important to note that when you open a Gousto account, it starts a rolling subscription.
This means regular weekly deliveries start from your first delivery day and you need to opt out if that's not what you want, or tweak the settings if you don't want the boxes that frequently.
You're still able to order one-off boxes without having an active subscription.
Sample recipe
Gousto provides a full rundown of what goes into each recipe, which means that we were able to compare the price with the cost of just buying everything yourself.
We looked at the smoky fish, curry butter sauce and green bean rice recipe for two people, and compared the prices of like-for-like products online at Asda.
For this recipe, Gousto provides you with 125g cherry tomatoes, 40g Cornish clotted cream, ½ tbsp curry powder, 80g trimmed fine beans, 5g coriander, 2 x 100g smoked basa fillets, 130g basmati rice, and ½ tsp ground turmeric, and depending how many recipes you order, the cost is £4.37-6.25 per serving.
To buy all of this from Asda, which would also leave you with plenty of leftover ingredients such as rice and the spices to use in other dishes, it came to £8.09 for two portions, or £4.05 per plate.
Unsurprisingly, it works out cheaper to buy the ingredients yourself.
That said, the difference between the cheapest Gousto deal for two (choosing four recipes) and buying everything yourself is only 22p, which really isn't bad given that with Gousto you'd have saved yourself a trip to the supermarket and everything is prepared and ready for you to cook.
Gousto is ideal for...
Again, people who want to make their own food but are limited on time. In terms of pricing, Gousto and HelloFresh are very similar, so choosing between them will probably come down to personal preference on the recipes themselves.
There is also a lot of flexibility with the subscription service, which is good if you are not sure that you would want a weekly delivery.
Simply Cook
Simply Cook is different to most recipe delivery services in that it doesn't deliver the fresh food that you need to make a dish, but rather just the 'flavour pots' that go into seasoning the recipes, which you choose when ordering your boxes.
Recipes
There are over 100 'chef-inspired' recipe kits, including 22 gluten-free options.
Dishes that you can make include Cuban mojo pasta and grilled halloumi salad.
For the salad, for example, you would receive basil pistou paste and harissa spice blend of paprika, cayenne pepper and cumin as part of the kit, but you'd have to provide the halloumi, courgette, couscous, and lemon yourself.
Do you need any extras?
You do need to buy all of the fresh ingredients for each recipe, but Simply Cook has tried to keep it simple by making sure that each dish only requires four to six fresh ingredients.
Prices
Every box of four recipe kits costs £9.99 and each set of seasoning should be enough for two to four people.
According to Simply Cook, making its recipes costs £3-6 on average per person, including the fresh ingredients that you need to buy.
The site claims that this is a third or less of the price of following similar recipes and making everything from scratch.
There is a £3 trial box available. This is limited to 40 recipes, and once the trial is over you will have access to over 100 recipes in total.
The sample box signs you up to a seven-day trial period, which you can cancel at any time or extend to become a regular subscription. If you are unhappy with the recipes you cook during the trial, you can get a full refund.
Delivery
Delivery is free across the UK and the boxes are designed to fit through letterboxes, so you won't have to worry about being in to collect the delivery.
All of the boxes are posted via Royal Mail and take around four working days to arrive.
Subscription
You can subscribe to have a Simply Cook box arrive every week, fortnight, month, or six weeks, and it is a recurring payment as specified in the company's terms and conditions:
"By subscribing to our service you are agreeing to pay recurring charges for an indefinite time until cancelled by you or by us."
Once you have completed the seven-day free trial you can cancel at any time. You can do this by logging into your account or emailing HelloFresh to request a cancellation.
Sample recipe
Simply Cook does not reveal the ingredients of its products online, so we couldn't compare the prices of making everything from scratch.
The company website does specify that its flavour pots can't be bought elsewhere and that there are sometimes up to 18 ingredients in each one, which suggests that it would be pretty pricy to buy everything individually.
Simply Cook is ideal for...
People looking to spice up their dinnertime repertoire with new flavours.
As Simply Cook only provides the flavours rather than all of the ingredients, you would need to go shopping to get the food to go into each recipe, so it's not as convenient as those services that deliver everything to your door.
Allplants
Allplants is more of a meal delivery service, as everything arrives frozen and ready to be cooked with no preparation required.
Recipes
As the name suggests, all of the meals from Allplants are 100% vegan, and each meal contains at least two of your five-a-day, a source of protein, iron and vitamin C.
There are over 20 dishes to choose from, including mac and greens, polpette orzo and rainbow falafel mezze.
Boxes come with six meals, either for one or two people.
Do you need any extras?
No extra ingredients are needed with Allplants dishes, as they are all frozen meals that just need heating up before they're ready to eat.
Prices
With Allplants you are able to buy a subscription for one or two people.
| | | |
| --- | --- | --- |
| | One person | Two people |
| Price per serving | £6.75 | £4.99 |
| Total cost for a box | £40.50 | £59.88 |
There are no introductory offers or trials available with Allplants, but you can order a one-off box if you want to try it out before committing to a subscription.
Delivery
Delivery is free for three days a week (Tuesday, Thursday and Friday) and weekend delivery is also available but it costs £2.50.
Subscription
If you choose to subscribe, you'll be able to pause or skip deliveries if you need to.
If you want to cancel your subscription altogether, then you'll need to select 'cancel your plan', and it'll have to be done by 8am, two days before your next delivery.
Sample recipe
Allplants meals come frozen and ready to be heated, so for a price comparison here we have looked at other plant-based ready meals currently on the supermarket shelves:
| | | |
| --- | --- | --- |
| Supermarket | Ready meal | Price |
| Waitrose | Feed Me Vegan chilli (450g) | £3.99 |
| Sainsbury's | Sainsbury's vegan smoky bean burrito bowl (400g) | £3 |
| Asda | Asda plant-based lentil cottage pie (400g) | £2.50 |
| Morrisons | Morrisons V Taste butternut squash and chickpea curry (400g) | £3 |
From a couple of the vegan ready meals we looked at, it's clear that Allplants dishes are more expensive than what you can find in supermarkets.
However, with Allplants you do get the guarantee that all of the ingredients are sustainably sourced and of course they are delivered straight to your house.
There is also a large amount of choice on the Allplants website, which you won't necessarily get at your local supermarket.
Allplants is ideal for...
People looking for a big variety of plant-based meals who don't have time to scour the supermarket shelves or cook up their own batches of vegan dishes.
Mindful Chef
With Mindful Chef you receive the pre-portioned ingredients in an insulated cardboard box, and all of the meals are designed to be cooked and ready to eat in under 30 minutes.
Mindful Chef also has a 'One Feeds Two' charity initiative where every meal purchased from the company leads to a meal being donated to a child in poverty.
Lots of celebrities have endorsed Mindful Chef, including Tom Daley, Andy Murray, Fearne Cotton and Victoria Pendleton.
Recipes
Mindful Chef is particularly good for people with dietary requirements, as 100% of the recipes are gluten-free and dairy-free.
The recipes vary on a week-to-week basis, but there is always a selection of 16 to choose from, including anything from lamb with crushed new potatoes, peas and mint gravy, to buckwheat pizza with mushroom, sundried tomato and pesto.
A selling point of Mindful Chef is that all of the ingredients are ethically and responsibly sourced, including grass-fed beef and free-range chicken, and there is a full list of local suppliers on the website.
All meals are between 400-650 calories and don't contain any processed carbohydrates like bread, pasta or white rice. Each recipe also comes with detailed information about its macronutrient content.
Do you need any extras?
Oil, salt and pepper are considered 'cupboard essentials' by Mindful Chef, but apart from those three ingredients, everything that you need is included in the recipe boxes.
Prices
Prices start at £5 per person for the four-person family box, £5.50 for a two-person box, and £8 per person for a one-person box.
There are no set prices for specific boxes, as it's entirely dependent on which recipes you choose.
For example, the jerk mushrooms with coconut rice and kidney beans is £5.25 per portion, whereas the coconut fish pie with sweet potato mash is considerably more expensive at £9.25 per portion.
Mindful Chef offers £10 off your first and second boxes of recipes.
Delivery
There is free delivery across the UK mainland, but Mindful Chef does not deliver to parts of the Scottish highlights, Northern Ireland and the Isle of Wight.
The company delivers seven days a week.
Subscription
With Mindful Chef, there is a default setting for you to receive a box every week, so this is something to be aware of if that's not what you want.
You can cancel deliveries up to eight weeks in advance if you know that you aren't going to be around, and if you want to make changes or cancel your subscription you have to give a couple of days' notice, depending on the day of your delivery.
Sample recipe
We had a look at the ingredients for the pork schnitzel, parsnip fries and vinaigrette salad recipe to see how much it would cost to get the ingredients individually.
Ingredients listed for the recipe are as follows: Italian herbs, apple cider vinegar, cherry tomatoes, flat-leaf parsley, mixed salad leaves, mustard, oil, onion, parsnip, polenta, pork loin.
For this comparison, we looked at online groceries from Sainsbury's, as Asda did not have all of the necessary ingredients.
The total for two portions (with ingredients to spare at the end) came to £11.75, making it £5.88 per portion.
Again, it's unsurprising that it's cheaper to buy from the supermarket, and there's a £1.12 difference in price between gathering everything yourself of relying on Mindful Chef.
Mindful Chef is ideal for...
People who enjoy cooking and are willing to spend a little bit more money on high-quality ingredients, as well as the convenience of having everything delivered to your front door and cutting the time needed to prepare ingredients.
Fit Kitchen
Fit Kitchen is designed to help people with fitness goals in mind, as it places an emphasis on tracking calories and nutrients.
The website asks that you enter information about your body composition and goals (fat loss, maintain weight, gain muscle) and then you are able to 'generate' meals or select set meals.
Recipes
To build your own meals, you choose from different ingredients that count as carbs, veg, salad, fat or sauce. As you add the ingredients, the price is totted up.
There is also a set menu that has pre-compiled dishes that you can pick from.
One of the muscle gain meals, for example, is grilled chicken with cottage cheese, crushed peanuts with lime and coriander sauce, as well as quinoa, sweet potato mash and crunchy veg.
A different aspect of Fit Kitchen is that it allows you to put in your exact macronutrient (carbohydrates, protein, and fat) requirements in grams, and the recipe will be altered to match it.
Sample recipe
We put together a sample meal containing the following, and as we compiled it, the prices of each item appeared:
79g chicken breast: £6.32
75g quinoa: 26p
15g green beans: 24p
51g tomatoes: 23p
10g crushed peanuts: 30p
30ml green chilli sauce: 75p
Total cost for one meal: £8.08
The same ingredients, and in much greater quantities, came to a total of £5.62 from Asda, so with Fit Kitchen it really is the convenience of the product that you're paying to, as opposed to the amount of food.
Do you need any extras?
You don't need any additional ingredients with meals from Fit Kitchen, as they are all pre-prepared and just need heating up.
Prices
Fit Kitchen says that its meals range from £1.60-£6 depending on the ingredients you choose, however for a meal with all of the suggested components it seems to fall at the higher end of that scale.
You can tweak any ingredients in meals that you design to make them cheaper.
All set meals put together by Fit Kitchen are £7.50, and they also provide protein shakes, which cost £4.50 each.
There are no introductory orders as such, but we were able to get a 10% discount code by chatting to the customer service team online, so that is worth doing if you're looking to buy a box.
Delivery
Fit Kitchen delivers across the UK mainland. If you want to make any changes to your meals you'll need to do it at least 48 hours before the planned delivery, before 5pm.
Subscription
Fit Kitchen doesn't have a subscription service so each order has to be placed separately. The company is planning on introducing a rolling order option soon though.
Fit Kitchen is ideal for...
People looking to create their own meals based on their nutrient requirements who don't necessarily have time to go shopping or cook.
It is a very convenient service if that's the position that you are in, but with the convenience comes costs that are a lot higher than supermarket prices.
Are they worth the money?
As with most things, it's a matter of personal preference and financial situation as to whether you believe that any meal or recipe delivery service is worth the money.
For the most part the services are quite a bit pricier than just buying the items in the supermarket and assembling the dishes yourself, however if that's a convenience you're willing to pay for, then there's a great range of services to cater for different diets, lifestyles, and types of food.
Be the first to comment
Do you want to comment on this article? You need to be signed in for this feature