Renters: everything you need to know about costs, your rights, fees and more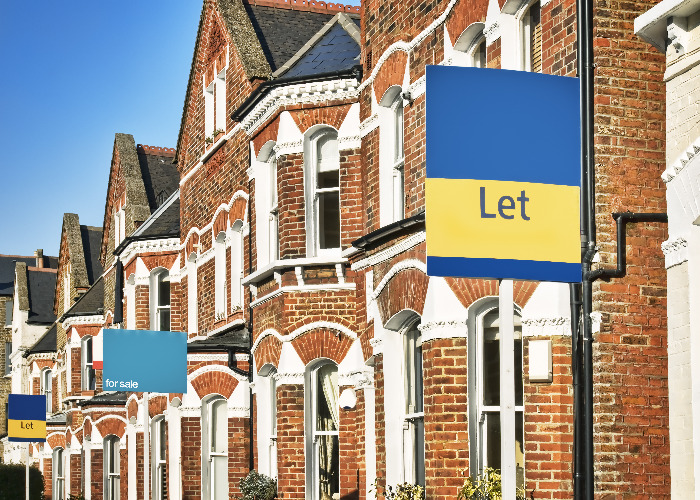 Moving into a new place can be an exciting yet expensive decision as you can fork out more money than expected. Having gone through the experience, here's what I wish I knew before renting.
What you have to pay upfront when renting
When I first started renting, I was shocked at the sky-high amounts I had to fork out before I'd even moved in.
I have rented many places since (some heavenly, some mediocre) and it's a similar story in terms of costs wherever I went.
First off, you usually need to pay between one and two months rent before you move in.
On top of this, a security deposit is generally required at around one to two months' rent.
According to Statista, rent in the UK hit a national average of £940 and £1,599 in Greater London in February, meaning prospective renters could face thousands of pounds in deposits and fees alone.
While the Government is cracking down on hidden fees from June, you still need to pay for:
Rent;
A refundable security deposit;
A holding deposit to take the property of the market (fixed at one week's rent);
Early payments to cover moving early (if you're in a fixed term tenancy agreement);
Interest on late rent payments;
Lost keys;
Changes to the tenancy agreement.
This still sounds like a lot but thankfully you shouldn't have to pay for references, credit and immigration checks, check-out, contract renewal or 'administration'.
These extra fees can easily work out to an average of £1,000 according to Zoopla.
Some unlucky tenants may have to pay the above additional charges if they are written into their existing agreement until 1 June 2020.
As a self-declared experienced renter, there are many things you need to look out for if you're renting for the first time.
Considering a personal loan? Compare different loans at loveMONEY
How much rent is too much?
It can be difficult to know whether you are getting a great price for your new digs as this depends on several factors such as the location, size and quality of the property.
You can look at the latest rental figures in April from the HomeLet Rental Index as it breaks down the average rent for different regions.
With tools like Zoopla's area guide, you can search for specific areas and it will tell you the average rent, breaking it helpfully down into different sized houses and flats.
If you think your rent is too high when you start a tenancy, you could apply to a tribunal, but it must be within six weeks of moving in.
For further advice on these matters, you could contact Citizens Advice.
Considering a personal loan? Compare different loans at loveMONEY
Viewings are key
This may seem like an obvious tip, but it's essential that you view the property in person as the photos may (or may not) do the property justice.
You may be able to identify issues that are not present in the photos, which may not be up to date, and can easily ask any questions that pop up.
Visiting the property also gives you a feel for the location and the neighbourhood.
Is it easy to get to via public transport or walking? Is it close to where you work or study? Is the neighbourhood friendly? Are there any eyesores on the journey?
A photo alone cannot answer these questions for you, so it's best to visit any properties that catch your eye.
On a different (if slightly morbid note), I have found checking local crime statistics using the crime map at Police.UK has helped me decide where to live.
On one occasion, I saw a beautiful property that I was considering (despite its distance from the train station) but when viewing the crime stats decided against it.
You can't live somewhere without crime, but there are different levels of crime that can unfortunately be more prevalent in other areas, which you may want to avoid.
Use our financial checklist to ensure everything goes smoothly with your move.
Moving on out – for how much?
In the past, I have been so excited to move that I have overlooked the cost of physically moving my stuff in – and how I was going to achieve this.
Personally, my family and friends have been a fantastic help, whether it's been driving to the new place or helping to shift boxes.
Moving can be physically exhausting, but doubly so if you're moving in with a partner or friend so any extra help is always a good thing.
Moving can also be expensive as you may need to buy packaging materials (that could be pricey if you have lots of stuff). Using old newspaper can help cut costs and protect any fragile items.
You can book large vans from as little as £34 a day if you're choosing to do the move independently, but you also need to take petrol costs into account.
Something I have overlooked in the past is planning the moving day, particularly if you're moving very far away, to ensure enough breaks to rest and grab a bite.
Looking for temporary parking? Find parking in seconds with JustPark
Getting your deposit back
It's often been claimed by tenants that they never get their full security deposit back, which from my own experience mostly rings true.
Your deposit should be protected in an approved tenancy deposit scheme, providing you have an assured shorthold tenancy that started after 6 April 2007.
If you cannot get your deposit back from your landlord, you can directly contact the deposit protection scheme.
What can be deducted by landlords?
In some cases, I have felt that some deduction from my security deposit was justified, but in other situations, it has felt unfair.
My biggest bugbear is with letting agents often demand professional cleaning services, which come at a premium.
According to SYK Cleaning, an end of tenancy cleaning agency, it costs around £150 to clean a one-bedroom property. Ouch.
In the past, while I have struggled to get my full security deposit back, I have gotten into the habit of photographing everything when I moved in.
When I was a university student, I queried why so much money was taken from my deposit (considering I had photographic proof of how the flat originally looked) and was offered a partial refund.
While this is not a guaranteed fix, taking pictures can help contest any damage or cleaning claims (if the property was not professionally cleaned before moving in) and possibly help you wrangle some money back.
Your rights as a tenant
As a tenant, you have the right to live in a property that is safe and in a good state of repair and live in the property undisturbed.
You also have the right to:
Have your deposit returned when you move;
Challenge 'excessively high charges';
Know who your landlord is;
See an energy performance certificate for the property;
Be protected against unfair eviction and rent;
A written agreement if you have a fixed-term tenancy of over three years.
Your landlord can be fined if they don't respond to information requests about their identity within 21 days of writing to the person or firm you pay rent to.
Knowing your landlord is essential as you need to be able to get in touch with them (or the letting agency) if anything goes wrong with the property.
The landlord is responsible for repairs – do not attempt to carry out any repairs unless the tenancy agreement says you can.
You may need to report any issues to the letting agency acting on behalf of the landlord and you should be informed when the repairs will be completed.
If the repairs are not completed, you should contact the environmental health department at your local council, who must act if the problems could harm you or cause a nuisance to others.
Your local council's housing department should be the first port of call if you think your home is unsafe, as they will complete a serious health and safety hazard assessment and act if needed.
It takes two to tango – don't forget what your responsibilities are to ensure you remain on a good footing with your landlord.
Want to switch energy deals when you move? Compare different deals at loveMONEY
Disputing rent hikes
Landlords can increase the rent but normally not more than once a year without your agreement if your tenancy is on a rolling weekly or monthly basis.
For a fixed-term tenancy, you must agree to any rent increases. If you don't, the rent can only rise when the fixed term ends.
An exception may apply if the tenancy agreement already includes a procedure for rent increases.
If you're worried about sudden rent hikes, you may be relieved that landlords must give at least one month's notice if you pay monthly or weekly. For a yearly tenancy, six months' notice applies.
For any rent disputes, you can apply to a tribunal to settle any disagreements, although there are some conditions you need to meet.
If you have a regulated or protected tenancy, you should contact the Valuation Office Agency.
Getting help if you're struggling to pay rent
Unfortunately, you can be evicted if you fall behind on your rent, but you can get advice from Money Advice Service, Shelter and Citizens Advice.
*This article contains affiliate links, which means we may receive a commission on any sales of products or services we write about. This article was written completely independently.
Be the first to comment
Do you want to comment on this article? You need to be signed in for this feature