Contacting HMRC: call times increasing
Getting in contact with HMRC is a task many of us dread.
Frustratingly, it's becoming increasingly difficult to get through to the taxman on the phone.
Research from Untied, a personal tax app, found that callers had to wait 12.5 on average to get through to HMRC's Self Assessment phone line this Self Assessment season, up from 11 minutes at the same time last year.
Kevin Sefton, CEO at Untied, said: "The beginning of the year will always be a busy time for the HMRC phone lines because millions of people wait until the deadline to file their taxes and then find they need assistance.
"The 28 February extended filing cut-off to avoid penalties didn't make this challenge any easier, even though fewer people took advantage than twelve months earlier.
"With nearly a million people expected to miss the tax return deadline and then scramble to get their submissions completed, we don't expect these wait times to ease any time soon."
If you do need to get hold of the taxman, here are some tips to make the process as pain-free as possible.
Alternatively, if you need help filing your tax return, why not let the experts at SimplyTax help? (Note this is an affiliate link and we may receive a small payment if you do pay for their services, but this won't affect the price you pay).
Use relevant numbers
HMRC has a variety of different departments with advisors that deal with a range of issues.
So, to avoid being passed from pillar to post or getting lost in the menus you can save time by using the relevant number for your query rather than the general contact number.
Here are some of the different numbers for the departments you might need to speak to:
Self-Assessment helpline: 0300 200 3310
Child Benefits helpline: 0300 200 3100
Employer helpline: 0300 200 3200
Income Tax helpline: 0300 200 3300
National Insurance helpline: 0300 200 3500
HMRC online services helpdesk: 0300 200 3600
Online debit and credit card payment support: 0300 200 3601
VAT general enquiries: 0300 200 3700
Tax Credits helpline: 0345 300 3900
You can find more relevant numbers on the contact HMRC page.
Time your call right
The time of day you call HMRC can have a big impact on how long you wait to speak to an agent.
Research by tax investigation insurers PfP found that the best time of day to call was in the morning between 8.30am and 9.30am and early lunchtime between noon and 12.30pm.
Taxpayers waited an average of four and a half minutes to speak to an adviser at these times.
The worst times were between 4.30pm and 5pm when the wait was 12 minutes to speak to an agent. At peak times, taxpayers have also reported being cut off.
Separate research from Untied, the tax app, found it was easier to get through to HMRC first thing in the morning and towards the end of the week.
"Untied found that it was best to call HMRC towards the end of the week, particularly on a Thursday or Friday, although this timespan got much longer as the Self Assessment deadline approached.
"In general, the shortest wait-time was in the morning between 8:00 and 9:00am, when phone lines first opened. Callers were on hold for between three and four minutes at that point."
"Mondays were found to be the busiest days to call, with the lines tending to be very busy during both the morning and afternoon (an average call wait time of 20 minutes).
"This duration increases after 4:00pm and goes up to 22 minutes. Some callers were even having to wait up to an hour for their call to be answered."
"Towards the tax deadline, the lines regularly became too busy which resulted in a significant number of 'cut-off' calls - even after the caller had listed to the lengthy introduction message of around 2-2.5 minutes and had answered the mandatory questions about why they were calling.
"These dropped calls were most common after 1pm."
Use menu shortcuts
One of the major problems with calling HMRC is going through the call centre menus to get through to the correct department.
PleasePress1.com is a website that lists call centre shortcuts. You can use it to get through to a specific department at HMRC that can help with your query without having to listen to the long recorded messages.
HMRC now uses voice recognition on many of its helplines where you say what you want rather than press for menu options, but many hate the new system as it tends to not pick up what is being said.
However, PleasePress1 says you can get the push button menu by staying silent for 40 seconds and using the shortcuts it lists on its site.
Visit the website or use the app
There are some queries that can be dealt with quicker online rather than waiting to talk to an advisor.
For example, if you need to let HMRC know you have changed your name or address or that you think your tax code is wrong there are online forms you can use.
Find out what your tax code means with our simple guide
Alternatively, you could use the HMRC app to deal with some enquiries.
You can find your tax code, find out how much Income Tax you should pay, manage your tax credits, check progress on forms you've sent to HMRC and more via the app.
So rather than picking up the phone, it might be worth having a look at the HMRC section of the gov.uk website for information that could help you or by checking out the app.
Take to social media
HMRC has a variety of social media channels that allow you to get in touch and keep up to date with new policies and deadlines.
The taxman has various Twitter accounts you could use to get in touch. @HMRCcustomers is a service to help with general queries about HMRC products or services, which is available Monday to Saturday 8am to 8pm and Sundays between 9am and 5pm.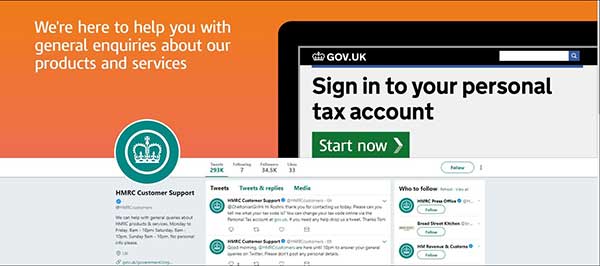 HMRC has an official Facebook page that is regularly updated with useful links and advice. The page is monitored Monday to Saturday between 8am and 8pm and Sundays from 8am to 4pm.
You can find HMRC on LinkedIn, where it provides updates that may be of interest to the LinkedIn community such as business tax, the latest news on tax policy and advice on running your firm.
HMRC also operates a YouTube channel with a range of video guides that could help answer your questions.
You can use HMRC's social media channels to answer general queries you have, allowing you to get the help you need without having to wait at the end of the phone.
It is less helpful if you have a specific query that requires sharing personal information. It's important not to reveal personal information using social media as it appears publicly for everyone to see.
Need help filing your tax return? Why not let the experts at SimplyTax help? (Note this is an affiliate link and we may receive a small payment if you do pay for their services).
*This article contains affiliate links, which means we may receive a commission on any sales of products or services we write about. This article was written completely independently.