How to get a free flight upgrade to first or business class on British Airways, Virgin, Air France, Emirates and other airlines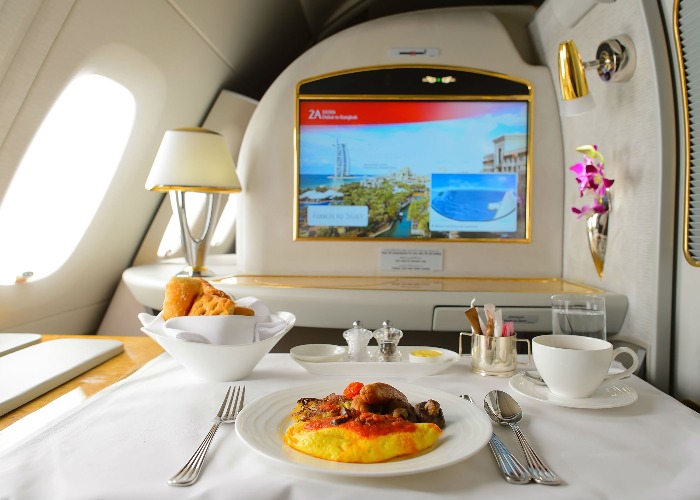 Fancy being bumped up to the pointy end of the plane on your next flight? Here are some things to try, including one guaranteed method.
Use frequent flyer points
Don't hope for an upgrade - make sure you get one.
Frequent flyer points can be used to buy an upgrade, or even an entire business or first class ticket.
The most useful schemes for the UK are British Airways Avios or Virgin Atlantic's Flying Club: you can read a comparison of the two schemes here.
Crucially, you don't need to fly often to earn points. Both British Airways and Virgin have their own credit cards that earn points for everyday spending and come with big sign-up bonuses, which could get you well on your way to an upgrade.
Just make sure whether you'll spend enough to get the bonus and that you make the most out of your points.
If you are able to fly regularly with an airline, you'll gradually gain a better status (known as 'Tier Points' at BA), going from Blue up to Gold.
Higher tier members get free lounge access, extra baggage, seat selection and - anecdotally - are more likely to get upgraded, as the airline sees you as a valued customer. You also earn more frequent flyer points enabling you to purchase upgrades.
Be warned, however, that airlines only have a handful of seats per plane that frequent flyers can purchase, so you'll need to book or upgrade well ahead of time.
Guarantee a Virgin Atlantic upgrade
As well as earning frequent flyer points, two credit cards offer a guaranteed upgrade.
If you spend £10,000 a year using Virgin Atlantic's Reward+ credit card, for example, and you'll get a free upgrade to Premium class (or a free companion ticket).
This card also earns 1.5 Flying Club points per £1 spent and comes with a 15,000 point bonus the first time you use it. So if you did spend £10,000 on this card, you'd end up with 30,000 points (enough to get you to the Carribean) PLUS that free upgrade.
The catch? The card has a £160 annual fee and a steep interest rate of 22.9% so you'll want to pay off your balance every month.
Alternately, you could opt for the fee-free Virgin Atlantic Reward credit card, and spend £20,000 - somewhat harder to reach - to get the free upgrade.
However, due to the card's lower earnings rate (0.75 per £1) and bonus (5,000) you'll only end up with 20,000 points, plus your upgrade.
Compare British Airways, Virgin Atlantic and multi-airline rewards credit cards here
Don't pre-select your seat
Most of us check-in online these days, so the first thing to do is simply avoid pre-selecting your seat if possible. Why would this help?
Well, it's more a case that pre-selection guarantees you won't be upgraded. If you're still not sorted for a seat and economy fills up, you could be one of the lucky few who's bumped up.
However, you're more likely to end up still in economy with a less desirable middle-seat, so use this strategy with caution.
If you are preselecting a seat, use SeatGuru to make sure you don't end up with one that has poor leg room, is beside the toilets, or has no window.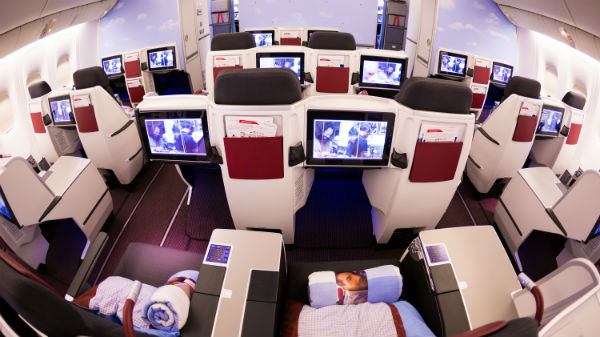 Dress to impress
Perhaps the simplest way to get an upgrade is to ensure you look the part and look respectable.
This doesn't necessarily mean you have to wear a suit, but turning up in cut-off jeans and a T-shirt isn't likely to do you any favours and many airport lounges have strict rules on clothing and footwear.
As with pre-selecting a seat, turning up looking scruffy is likely to ensure you don't get an upgrade.
Paying for a holiday? Use your credit card : here's why
Use special occasions to your advantage
You need to do this fairly subtly, but if you're just married and on your honeymoon, casually drop it into the conversation at the check-in desk. Similarly, if it's a special birthday, or another event, it's worth mentioning. Even if you don't get an upgrade, you may still get a glass of champagne!
Of course, the downside to this is that if you're checking-in online, there are fewer opportunities to play the special occasion card!
Take advantage of your friends
If you're lucky enough to know someone who works for the airline, it's worth finding out whether he/she might be able get you some special treatment and ideally, an upgrade!
British Airways Executive Club Avios vs. Virgin Atlantic's Flying Club: which is the best?
Don't order special meals
Unfortunately, if you order special meals for the flight – such as vegetarian, vegan, halal or kosher – you're less likely to get upgraded.
The reason for this is because flights generally don't have spares, so first class may not be able to accommodate your needs at the last minute. As a result, the upgrade opportunity is likely to go to someone without special dietary requirements.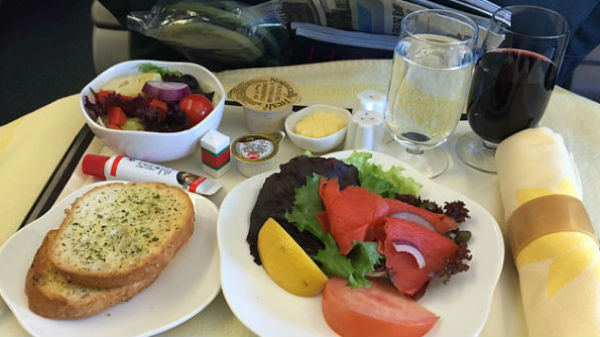 Fly full fare
If you've got a discount on your fare, you're less likely to get an upgrade.
Airlines are much more likely to upgrade you if you've paid the full amount, purely because it reflects badly on them if someone who has been upgraded tells everyone how little they paid for their ticket!
If you're planning to use your frequent flyer points on an upgrade, be aware that some special offer economy fares can't be upgraded. Conversely, the pricer fully-flexible fares may cost fewer points to upgrade, but bear in mind upgrades are not guaranteed so you could end up wasting money.
Compare British Airways, Virgin Atlantic and multi-airline rewards credit cards here
Travel alone
If you're travelling on your own, you're more likely to get an upgrade simply because there are fewer of you to upgrade.
If you're travelling in a large group, you can pretty much kiss that upgrade goodbye - however, if you're the one booking, use an airline rewards credit card to rack up points that you can use on an upgrade another time.
Avoid business hours
If you can avoid travelling during business hours, do so. That's because the first class and business cabins are likely to be fuller during business hours and you're unlikely to be bumped up. However, travelling at the weekends or outside peak hours should boost your chances of an upgrade.
Websites such as SeatGuru and SeatExpert will show you the seating plan of your flight so it's worth checking out to find out how full your flight is likely to be and whether there's much chance of an upgrade!
How to make the most of your British Airways Avios and Virgin Atlantic Flying Club miles
Mention any medical issues but don't whinge
If, for example, you have a weak bladder or are on medication and need to be near a toilet, it's worth mentioning this. They may take pity on you and upgrade you if there are no available economy seats.
However, don't moan about it. If you do, they may decide to upgrade the person next to you instead!
Get moving
If, once you're on the flight, you're asked to move so that a family can sit together, for example, do so. There is a chance that you'll be upgraded on the back of this, although it's not guaranteed.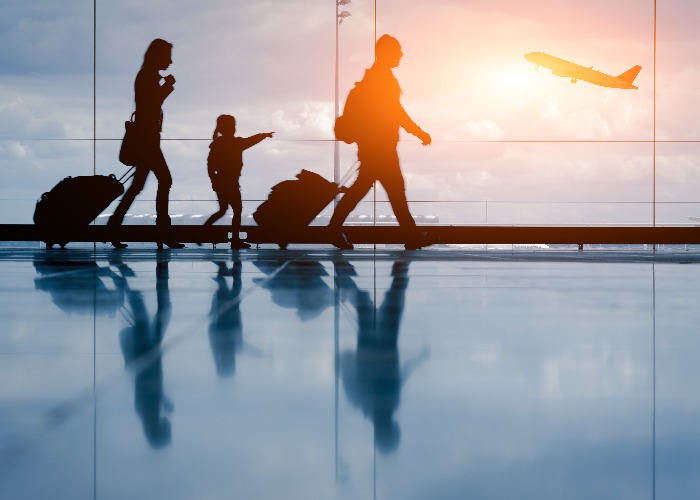 Just ask!
Finally, you could of course simply ask for an upgrade. But if you're going to do this make sure you're not demanding and don't shout it out so that everyone else can hear.
A little bit of charm can go a long way. Be friendly, smile, and make sure you're polite when checking-in. You're far more likely to get an upgrade if the check-in staff like you! That said, don't be so friendly you come across as scary or a little weird!
Airline staff do get fed up with being constantly asked about upgrades, so don't assume that just because you've asked, you'll get what you want.
Upgrade your own experience
It's easy to get wound up over different airline classes, but there's plenty you can do to improve even the most dreary economy flight.
In this piece for our sister-title loveEXPLORING, Tamara Hinson lists nine tips for making your flight more comfortable, covering everything from comfortable clothes to food to reduce the risk of deep vein thrombosis.
It's also possible to pay for access to many airport lounges or get in for free with certain credit cards, giving you a taste of the business class experience without actually shelling out thousands of pounds.
Bon voyage!
Compare British Airways, Virgin Atlantic and multi-airline rewards credit cards here
Be the first to comment
Do you want to comment on this article? You need to be signed in for this feature