How to make a cheap and free will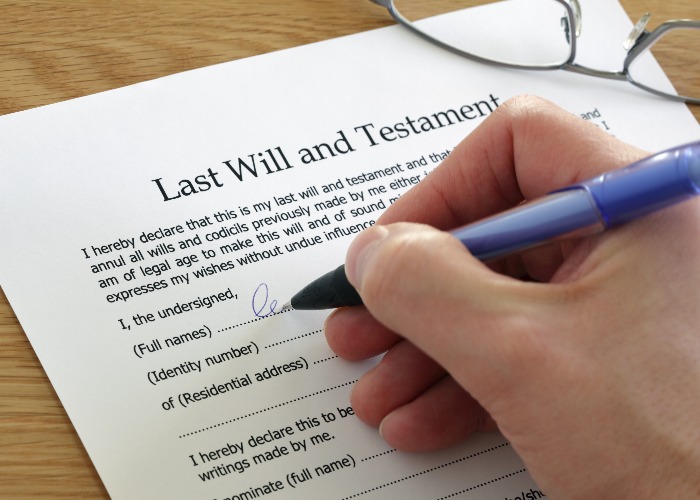 It turns out that many of us avoid talking about the vital topic of inheritance with our loved ones. You should be discussing it though, whatever your age. October is a great time to get started as it's Free Wills Month – here's everything you need to know about making a will.
Why you should write a will
Many adults have never even discussed inheritance and wills with their families, according to new research from Brewin Dolphin.
A poll of 4,000 UK adults found that a quarter (26%) haven't broached the subject with loved ones because they don't feel old enough so isn't a priority. One in seven (14%) say they don't like talking about death and one in 10 (11%) say they avoid it as it's a morbid subject.
However, life events such as a health scare (52%), a near-death experience (46%) and getting older (46%) might prompt them to take action.
Of those that have talked about it, 36% have discussed passing on wealth after they die while only 26% have discussed writing a will.
It's vital that we write a will as if we don't, we have no say in who our assets get passed on to after we die, leaving it in the hands of the law. Unless your finances are straightforward, it can be a logistical nightmare.
Passing on wealth, be it money, property or family heirlooms, is important to us with over half (45%) hoping to pass it on to loved ones. Brewin Dolphin says that the most common reason for over 50s to pass wealth on is because they're worried they won't have enough money to fund retirement or later life care (52%). Other reasons include wanting to help family members after they die (47%) and leaving younger family members with something to remember them by.
It's also worth writing a will as, if you have children under the age of 18, it's the best way to ensure that they're being looked after by your preferred guardians.
What's more, if you haven't made a will stating what should happen to your estate upon your death, it could be subject to Inheritance Tax.
The threshold currently stands at £325,000 for individuals or £650,000 for people who are married, in a civil partnership or widowed.
Get a will for free
It's worth noting that it's possible to get a will written for free.
Every March and October there is Free Wills Month in which anyone aged 55 or over can have a basic will drawn up by a solicitor for free in return for charitable donations.
Similarly, depending on your age the Stroke Association (over 60s) and Cancer Research (over 55s), have teamed up with solicitors all over the country to help you write or update your will for absolutely nothing (IDDT members of any age are also eligible).
Of course, although the organisations mentioned above would never ask, you should either give a donation at the time, or ensure you name the charity as a beneficiary in your will.
Alternatively, every November, Will Aid works with solicitors in the UK to run National Make A Will Month. This scheme also has solicitors up and down the country donating their time and support for charity – which means you don't have to pay to have a will drawn up.
That said, because this is again for charity, it's suggested that you pay £95 for a single will or £135 for a pair of mirror wills (where a husband and wife or partner make almost identical wills).
Who should write it?
To ensure your will is accurate and legal, it's generally advisable to get a solicitor to draw it up for you.
A solicitor can give you legal advice on more complicated matters such as Inheritance Tax, and can ensure there are no errors in the will. Solicitors' fees can vary but typically you're looking to pay between £150 to £200.
If you think solicitors' fees are too high, you could consider a will writer instead. However, it is important to remember that unlike solicitors, they don't have to be qualified or regulated.
So if you are going to use a will writer you need to ensure he/she is a member of a recognised trade body such as the Institute of Professional Willwriters or The Society of Will Writers.
That's because this means they must follow a Code of Practice which covers the training and assessment of will writers. What's more, there's a complaints procedure which can help you to sort out problems if anything goes wrong.
Or if your financial affairs are straightforward you could simply write your will yourself using a DIY kit from your local stationers. Super-cheap DIY wills can cost as little as £10. For this ultra-low price, you'll generally be able to select from a range of pre-formatted templates. You simply choose the version that most closely matches your needs. Once you have completed the form, your will is emailed to you ready to printed off so it can be signed and witnessed.
If you spend a little extra, say £30 or so, you'll get everything that a cheap will offers alongside a few additional benefits. For example, you'll probably have access to templates which can be more easily customised. You may also get the opportunity to rewrite your will as often as you need to and free online storage may also be on offer.
The downside to doing it yourself is that these forms can be tricky to fill out and it's easy to make mistakes – invalidating your will. So unless you're confident and your will is extremely straightforward, DIY wills are probably best avoided. If you do want to go ahead, seek advice from an organisation such as Citizens Advice.
What to include in a will
It's worth thinking about exactly what you want included in your will. Work out how much money, property and other possessions you have – don't forget to include savings, pensions, insurance policies and shares.
Consider who you want to benefit from your will and make a list of all the people (your beneficiaries) to whom you want to leave your money or possessions. When doing this, be specific as possible and don't use nicknames.
Also consider whether you want to leave any money to charity, and if you have kids under 18 (16 in Scotland), think about who is going to look after them should you die.
Appointing executors
In your will you should name the people you want to handle your affairs after your death. These are known as the executors. You can choose family or friends, although make sure they are happy to take on the responsibility before you include them in the will.
You can nominate your solicitor, although you are under no obligation to do so. Be aware that a solicitor will charge for being an executor.
Two executors are normally nominated, although you can choose up to four.
If you've been nominated and don't have a clue where to start, read our guide on How to be an executor.
Storing your will
You can keep your will at home, but make sure people know where it is.
Or you can store it with your solicitor, your bank, at a storage facility or with the Principal Registry of the Family Division.
Changing a will later
For a will to be valid, it must be:
made by a person who is aged 18 or over (12 in Scotland);
made voluntarily;
made by a person of sound mind;
in writing;
signed by the person making the will in the presence of two witnesses;
signed by the two witnesses in the presence of the person making the will. A witness cannot benefit from the will.
It's also important to review your will regularly and make amendments where necessary. If your circumstances change significantly – for example you get married, divorced or separated, have children, or buy a house – it's vital that you update your will. An existing will automatically becomes invalid if you marry.
An amendment, known as a codicil, has to be witnessed in the same way as the original will. You could also write a new will, but make sure you declare it declares that all previous wills and codicils are null and void.
You can find further tips on will writing and other important information about dying and bereavement on the Dying Matters website.
Finally, bear in mind that Scottish law on inheritance differs from English law. You can check out the Citizens Advice Bureau in Scotland for further information.
If you're interested in keeping track of your wealth across investments, pensions, savings and ISAs, physical assets, and much more then Plans can help you. It will instantly calculate your net worth, and you can take advantage of the service's automatic account uploading service, making it quick and painless to get started. Claim your 30-day free trial to Plans today to see how useful it can be >
Be the first to comment
Do you want to comment on this article? You need to be signed in for this feature