Twelve good, cheap Christmas gift ideas
Do you want to save this article to read later? You need to be signed in for this feature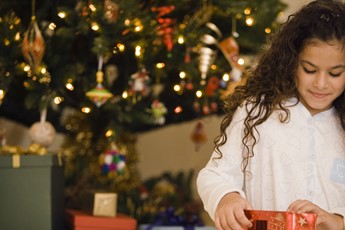 Don't know what to get your loved ones this Christmas? Here are 12 gift ideas that should make their day without blowing your budget.
It's Christmas soon and that means hitting the shops to buy presents!
If you're looking for good, cheap Christmas gift ideas for your friends and family, then you've come to the right place. Here are a few ideas from lovemoney.com to get you started.
Add your own using the comments box below!
Gifts for free
Mixed CDs: This is a nice thoughtful present for friends and family that is really easy to make and will cost you nothing if you have a few spare blank CDs lying around. It's a great way to introduce loved ones to some new music or make them smile with some of their favourite tunes.
Cash in on loyalty schemes: Make the most of all those points you've saved up over the year using loyalty schemes. With Tesco Clubcard Boost, for example, you can get up to four times your points/voucher value at selected partners or exchange £5-worth of vouchers to spend £10 in selected Tesco departments.
Save the planet: Community websites like Freegle, Freecycle and SnaffleUp encourage people to give away things they no longer need, anything from furniture and electrical goods to baby gear and bicycles. Sign up and root around for something that would make a good gift.
Free gifts from cashback: Cashback websites like Quidco or TopCashback can make you money as you spend on Christmas gifts. So with the cashback you build up you can get another gift for free or sneak in a little something for yourself.
Time vouchers: If you have friends or family that could do with your help babysitting or renovating you could offer your services with some vouchers for your time, redeemable throughout the year or within a month.
Stocking filler gifts
Three for two: This popular deal in the retail world can help fill up all of your stockings on the cheap. Boots, Matalan and Very all have some cracking items you can mix and match right now. This Hulk mug (£7), Vintage Chic Shower Cap and Eye Mask Set (£6) and Nando's Dipping Set (£11) from Very's range for example will set you back just £19 altogether.
Cosmetic bargains: There are a whole host of sweet-smelling and beautifying bargains available on deep discount sites like Half Price Perfumes, Fragrance Direct and Cosmetics Fairy. You can get a Calvin Klein Luxury Crème Lipstick for just £1.99 (saving £11.51) from Fragrance Direct, salon perfect nails with this Sally Hansen Salon Nail Lacquer from Half Price Perfumes for £1.99 (saving £8) or bag a few 99p bargains from Cosmetics Fairy.
Sporty gifts: For the sporty people in your life, check out Decathalon for low-cost practical equipment, accessories and clothes. These Golf Balls are just £4.99 and this Fold-down Tube Bag is just £4.59. For cheap designer brands head to Sports Direct, where you can get this Puma Water Bottle for £2.39 or Adidas Headband for £2.50.
Sexy gifts: Meanwhile, if you're buying for you girlfriend, wife or - God forbid - your mistress, what could be a better stocking filler than some lingerie? Check out ASOS, Myla, Bravissimo, or FigLeaves online to get your hands on some super sexy items, without having to brave the high street. This Gossard Superboost Lace Nightwear Dress from ASOS costs just £35.
Kitchen gifts: When it comes to kitchen gifts, don't disregard the almighty online behemoth that is Amazon. Who could resist this Ninjabread man cookie cutter for just £6.99? Or these Assault and Pepper Shakers for £7.99? For gadgets to help in the kitchen make sure you read the best and worst kitchen gadgets from our sister site lovefood.com. The gadget that comes highly recommended is the Egg-Perfect timer from Lakeland that only costs £6.49.
Miscellaneous bargains: Before looking for bargains on eBay, visit fat fingers - a site which sources items listed on eBay with spelling mistakes. These often have fewer bids as fewer people can find them. Perfect for bargain stocking fillers!
Spread the cost of your Christmas shopping with a 0% credit card
Give an experience
Days out have become a very popular gift idea - with companies like Red Letter Days, and Virgin Experience Days offering a host of wild, wacky or relaxing experiences.
However, these tend to cost an arm and a leg, so why not create your own 'experience day' to give as a gift instead?
Build it around what your loved one enjoys doing, and go with them for some quality time together as well.
For example, culture vultures might like a backstage theatre tour (the National Theatre runs these for £8.50 per person). Or for those that love the outdoors and beautiful architecture, what about a trip to a National Trust property?
For the men in your life break from the norm and treat them to the delights of a gentleman's afternoon tea. It will certainly be an experience!
Daily deal sites like Groupon, KGB Deals, Living Social and Wahanda are also handy if you want to save money on experience gifts.
Impress her for less
For posh perfume and luxury make-up brands, there are several specialist comparison sites that will check prices at the big retailers and tell you where you can get the one you want at the best price. Try FragrancesCompared and CheapPerfumeExpert for starters.
If you're after make-up and hair products as well, check out FeelUnique. The firm offers luxury brands at discounted prices and has free UK delivery.
If you're buying for a fashionista, my-wardrobe.com is a great place to look for gorgeous designer clothes at rock-bottom prices. Or if you are sick of hunting around all of the shops for the perfect gift Shopstyle is a website that will save you trawling if you have something in mind. Search for a black dress for example and it will bring up all the black dresses available in all the high street, catalogues and luxury shops.
But if she is more vintage vixen than high street honey you can avoid the dank, oddly-scented second-hand shops and get hold of something unique online. There are a number of great websites like rokit.co.uk and beyondretro.com .
You can mix and match with a variety of sellers on ASOS Marketplace, like vintage jewellery from £4.80 at Confectionary or vintage style handmade hair accessories from Crown & Glory.
Get rewarded for the money you spend at Christmas with a cashback credit card
Impress him for less
For the boys cut out the novelty and see if you can get something luxurious for less from TK Maxx. This Peter Werth Brown Leather Wallet looks pricey, but is a steal at £12.99.
For gadgets take a look at MenKind. You can get this Laser Leveller Multi-Tool for £9.99 or try this handy Belt Hanger for £7.99.
And to keep him organised why not get this Man Tin from Amazon for £7.36.
Gifts children will love
The real thrill of Christmas giving comes from kids racing down the stairs on Christmas day to open their presents.
A Lego set is a pretty safe option if you want to impress the kids. The Hut, Zavvi and Hamleys have a good range for all ages.
While this Dining Table Ping Pong set for £18.95 from Prezzy Box or Balloon Warriors set for £8.99 from I Want One of Those will provide hours of fun.
For kids that have their heart set on pricey games machines like the Nintendo 2DS or PlayStation 4, Rebecca Rutt has found the best bargain deals. Find out where in The cheapest place to buy the Nintendo 2DS and The cheapest place to buy the PlayStation 4.
Also if you want to reclaim your tablet and keep kids at bay, the Tesco Hudl could be an affordable solution. Read more about it in: Tesco launches bargain Hudl seven-inch tablet computer.
Get your Christmas budget sorted with the lovemoney.com MoneyTrack tool
Foodie gifts
Let's be honest, most home-cooked gifts are not to be attempted by the time-poor or the kitchen-phobic. However, some foodie-inspired presents are really easy and cheap to make. So if you're no Jamie Oliver, what about these:
Chocolates in a mug: Buy a nice mug, fill it with chocolates (Quality Street are perfect because they're colourful and wrapped), pop cellophane around the whole thing and tie with some ribbon.
Jar of nostalgia: For the little kid in the adults you know - buy a big glass jar and fill it with the sweets of their youth. Jawbreakers and sherbet fountain anyone?
Cookie mix jar: My pint-sized relatives really like this sort of DIY cookery kit. In a nutshell - get all the dry ingredients for making cookies and layer them in a glass jar. Tie a pretty bow round the top and present with instructions on what they need to add, and what they need to do, to complete the recipe. It should end up looking something like this.
Recipe scrapbook: If your loved one likes to cook, you could make him or her a recipe scrapbook of their favourite recipes as well as some new ones to try out. All you have to do is gather up all the scribbled recipes they have lying around, and collate them - nicely mounted - in a big attractive scrapbook or specially made recipe binder/folder. For some new recipe inspiration check out lovefood.com.
Creative hamper: Getting a basket and filling it with thoughtful foodie bits can make a great gift. It doesn't have to be your standard chutneys, jams and biscuits either. If you know someone who loves spicy food you could make a chilli-inspired basket full of a selection of hot sauces, some chill chocolate and chilli oil.
Start saving for next Christmas with a top savings account
Photo and graphic gifts
A nice simple gift for friends and family is to get some photos developed and present them in a nice album from somewhere like Paperchase or a cool frame from Not on the High Street.
When getting photos developed, it's often cheaper to do it online. Generally the more you print, the cheaper it gets. If you're a new customer websites like to draw you in with a wad of free prints. Snapfish is one of the cheapest places to go and at the moment you get 20 free prints when you sign up.
And if you want to go the extra mile you can use your digital snaps to make personalised gifts. These days you can get your pictures turned into anything from mouse mats and mugs to chopping boards and iPhone cases! With Photobox, for example, you can order a personalised calendar. Prices start at around £8.95.
For a round-up of the best places to go check out: The cheapest photo printing websites.
Unique arts-and-crafty gifts
You can have a lot of fun making things at home for your friends and family. And what's more crafting a gift yourself is more affordable, personal and unique.
You could try baking some cupcakes, making a bracelet or even painting a picture.
Check out Rebecca Rutt's guide How to make successful homemade Christmas presents for some hints and tips.
Alternatively if you're running out of time try getting a unique homemade gift from Folksy, an online market-place for crafty folk. It stocks everything from jewellery and home ware to book-binding and metalwork.
Similar websites include DeWanda, Big Cartel and Etsy.
Home and garden gifts
Home and garden gifts can be fun and useful.
For helpful gifts for around the home Robert Dyas is a good place to look.
While Not on the High Street has some affordable gardening treats for the green fingered folk in your life.
Elsewhere, Urban Outfitters has a varied range of home ware items like this Apartment Sweet Apartment welcome mat for £16.
Oliver Bonas also has some gems. These Ceramic Alphabet Hooks cost between £2.50 and £7.50. And anyone that holds a dinner party will be able to find a use for this Bamboo Gloss Lacquer Bowl from £5.
Zara Home has a big range of boxes that could be put to use around the home. And to bring some order to letters and stationary why not consider a Shabby Chic Letter Holder from eBay for £12.99?
Entertainment gifts
DVDs, CDs, books or games are sure to go down well with just about anyone you have to buy a gift for.
You can compare prices using Find-DVD, Find-Book, Find-Game or Find-CD to find the best deals on what you want to get.
The Girls boxset for example is cheapest on Amazon right now where it is available for £16.75.
This article has been updated from an earlier version.
Spread the cost of your Christmas shopping with a top 0% purchase credit card
Christmas on lovemoney.com
The worst ways to pay for Christmas presents
Where to get your Christmas lunch the cheapest
Retailers' last order dates for Christmas deliveries
Top toys for Christmas 2013: where to find them cheapest
Top Christmas present voucher code and cashback deals this week
Christmas on lovefood.com
Rachel Allen's Christmas cake recipe
How to build the perfect Christmas cheeseboard
How to make Christmas pudding cake pops – from leftovers!
Lovefood's mince pie taste test – bargain winners and a shock loser!