HSBC launches 1.99% two-year fixed rate mortgage
Do you want to save this article to read later? You need to be signed in for this feature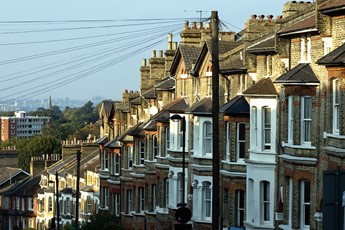 HSBC has launched a new two-year fixed rate mortgage with an interest rate of less than 2%.
HSBC has launched a new two-year fixed rate mortgage with a market-leading rate of just 1.99%.
Borrowers will need a 40% deposit to bag the mortgage, which comes with a whopping £1,999 fee, though HSBC current account holders get a £500 discount.
If that fee is too much to swallow, there is also a two-year fixed rate mortgage at 60% loan-to-value (LTV) with a higher interest rate of 2.49% and a fee of £599.
How it compares
This isn't the first time a lender has dipped to this record low level. Just last month Tesco Bank launched a two-year fixed rate at 1.99%, and what's more it came with far smaller fees – just £995 in fact.
However, that deal was pulled earlier this month.
Then Abbey for Intermediaries, Santander's arm that only lends through mortgage brokers, launched a 1.99% deal on the 22nd November. However, this was only ever going to be available for a week, and has now disappeared.
That leaves HSBC free to hop to the top of the best buy charts with its own 1.99% deal.
Here are the five cheapest rates at 60% loan-to-value across a two-year fixed term:
| | | |
| --- | --- | --- |
| Lender | Interest rate | Fee |
| | 1.99% | £1,999 |
| | 2.28% | £1,995 |
| | 2.29% | £1,999 |
| | 2.39% | £1,995 |
| | 2.39% | £1,295 |
Source: Moneyfacts
Looking at the table highlights that while a £2,000 mortgage fee may stick in the craw for many, it's not exactly unusual for lenders to charge so much for such a cracking rate. Check out Why I'm paying a huge mortgage fee for an explanation of why it can sometimes be worth your while to shell out a small fortune up front.
For more information on the HSBC mortgage, call HSBC on 0808 115 8734.
Five-year fixed rates
Personally I'd be far more interested in fixing my mortgage rate for longer than two years. With rates at historical lows, I'd want to secure a cheap rate for as long as possible without having to worry about remortgaging in two years.
For borrowers with a similar mindset, the good news is that HSBC has also launched some new five-year fixed rates, again at 60% LTV.
There's a 3.19% deal with a £499 fee and a fee-free 3.39% mortgage too.
Here are the five lowest rates you can bag on a five-year fixed rate:
| | | | |
| --- | --- | --- | --- |
| Lender | Interest rate | Fee | Maximum LTV |
| | 2.79% | £999 | 60% |
| | 2.89% | £1,999 | 60% |
| | 2.95% | £2,495 | 60% |
| | 2.99% | £1,295 | 60% |
| | 3.04% | £995 | 75% |
Source: Moneyfacts
Not so good from HSBC, as this time the top rate is 0.4% cheaper than its mortgage and comes with a fee that will still set you back less than £1,000. It's also worth noting the 3.04% Yorkshire BS mortgage, which has a better rate than HSBC's deals and a higher LTV.
For more information on the HSBC mortgage, call HSBC on 0808 115 8734.
Why mortgages are getting cheaper
The last couple of months have seen a number of cracking mortgages launched, particularly for borrowers with hefty deposits.
At the same time savings rates have been plunging. That's not a coincidence – it's down to the Government's Funding for Lending scheme.
The Funding for Lending scheme was launched back in June. As the name suggests, it involves the Bank of England offering cheap loans to banks and building societies, but on the proviso that that money is used to up the firm's lending, rather than to prop up their balance sheets.
Because lenders can get their hands on this cash so cheaply, they no longer need to attract savers in order to fund their mortgages. It also means they can offer more competitive deals.
The trouble is that lenders are focusing their efforts on the low LTV market, which was already pretty well serviced before the scheme was launched. According to Moneyfacts, there were already 398 mortgages at 60% LTV to choose from back in July, compared to 263 at 90% LTV. Today there are an extra 109 deals for borrowers with a 40% deposit, compared to just 21 more for borrowers with a 10% deposit.
Great news if you've got loads of equity already, but this isn't really what the Government was hoping for when it designed the scheme.
Get free mortgage advice from the lovemoney mortgage service
This article aims to give information, not advice. Always do your own research and/or seek out advice from an FSA-regulated broker (such as one of our brokers here at lovemoney.com), before acting on anything contained in this article.
Finally, we tend to only give the initial rate of a deal in our articles, but any deal which lasts for a shorter period than your mortgage term may revert to the lender's standard variable rate or a tracker rate when the deal ends. Before you take out a deal, you should always try to find out from your lender what its standard variable rate is and how it will be determined in the future. Make sure you take all this information into account when comparing different deals.
Your home or property may be repossessed if you do not keep up repayments on your mortgage.
More on mortgages