The nation's top burglary hotspots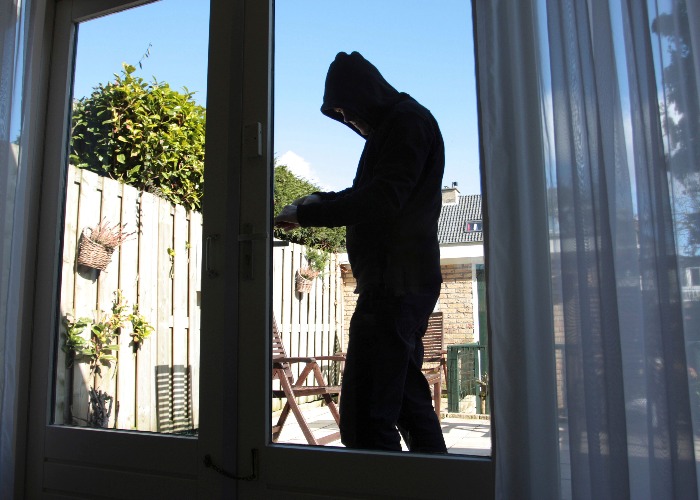 Where are homes most likely to be broken into?
Burglary has been on the fall for some time now, according to figures from the Office for National Statistics.
Its most recent data, covering the year to June 2019, showed that burglary had fallen 4% on the year before, continuing the trend seen since the late 1990s.
Despite this, there are still more than 400,000 cases recorded each year ‒ that's an awful lot of innocent households going through the traumatic experience of discovering their homes ransacked, and some of their most precious and valuable possessions gone.
What's more, burglary is more prevalent in some areas than others.
Make sure your valuables are insured: compare home insurance policies
A burglar's favourite haunt
A new study by price comparison site MoneySuperMarket has identified the locations with the highest and lowest home insurance claims for contents theft over the past five years ‒ in other words, the towns where burglars are most likely to strike.
The B5 postcode in central Birmingham has been picked out as the nation's burglary hotspot, with a rate of more than 57 claims for contents theft per 1,000 quotes.
The table below details the top 10 theft hotspots. If you're interested, you can also take a look at last year's hotspots here.
| | | | |
| --- | --- | --- | --- |
| Rank | Postcode | Location | Rate of burglary claims per 1,000 quotes |
| 1 | B5 | Central Birmingham (Digbeth, Highgate, Lee Bank) | 57.14 |
| 2 | B94 | Birmingham (Olton, Solihull) | 52.63 |
| 3 | IG5 | Greater London (Clayhall) | 51.64 |
| 4 | N21 | Greater London (Winchmore Hill, Bush Hill, Grange Park) | 50.13 |
| 5 | M21 | Manchester (Chorlton-cum-Hardy, Firswood) | 49.22 |
| 6 | BS7 | Bristol (Bishopston, Horfield, Filton) | 49.13 |
| 7 | SK4 | Manchester (Stockport, Four Heatons) | 49.12 |
| 8 | B96 | Birmingham (Redditch) | 49.06 |
| 9 | WR12 | Cotswolds (Broadway) | 47.97 |
| 10 | IG9 | Greater London (Buckhurst Hill) | 47.83 |
It's perhaps unsurprising that big cities dominate the hotspots list.
Indeed, 18 of the top 20 postcodes are found within Britain's biggest cities, with nine alone found in Greater London.
Just one of the top 10 is found outside of what you might term a metropolitan area, and that's WR12 in the Cotswolds.
Overall MoneySuperMarket reported that there had been a 2.5% increase in claims at an average of 16.04 per 1,000 quotes in 2019, up from 15.65 in 2018.
It also pinpointed the postcodes with the fewest burglary claims.
Leek in Staffordshire (postcode ST13) had just 0.69 claims per 1,000 quotes, followed by the Scottish postcodes of G84 (covering the likes of Clynder and Cove) and KY4 (covering Cowdenbeath) notching up claims rates of just 0.87 and 1.09 per 1,000 quotes respectively.
Get a home insurance quote now with Confused.com
It doesn't just happen at night
What's more, it's important to remember that burglary is not something that only happens in the dark, after the sun has gone down, or when the house is empty.
Analysis of ONS data by insurance firm Buzzvault found that almost six in 10 (58%) burglaries occur when someone is home, while more than a third (39%) take place in either the morning or afternoon rather than at night.
A scary one in four victims were aware of the burglary taking place, and even saw the intruder, the report suggests.
Separate research from the firm has found that the typical household now has a whopping £38,000 worth of possessions, with more than one in 10 owning some form of collectible such as artworks or antiques, potentially making them even more enticing to thieves.
Protecting your home
There are plenty of things you can do to make your home less attractive to burglars.
The Metropolitan Police has outlined a host of tips on its website, from boosting the standard of the locks on your front door to removing possible hiding places for burglars in your garden.
You can also put technology to good use, whether through the installation of a burglar alarm or even something like the Ring doorbell, which lets you see who is at your door even if you are away from the property using your smartphone.
But if burglars do find their way into your home, you want to ensure that you have adequate home insurance in place to cover replacing any items that are taken or damaged.
Go through each room of your house and work out how much it would cost you to replace everything in there. You don't want to underinsure your home and leave yourself out of pocket should the worst happen.
Check out our guide on how to get the right home insurance cover, without overpaying.
Get a home insurance quote now with Confused.com
Be the first to comment
Do you want to comment on this article? You need to be signed in for this feature