M&S Valentine's Day £20 Dine In meal deal special 2022: what's on offer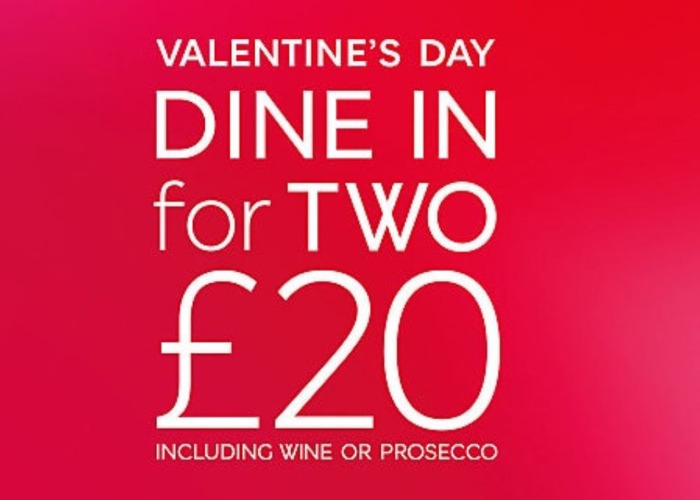 The 2022 M&S Valentine's Day Dine In meal deal will set you back £20. Here's what you can get in the romantic food offer.
Marks & Spencer will be launching its 2022 Valentine's Day meal deal on 9 February, which will run until 14 February.
Although it's double the price of the traditional Dine In For Two food offer, you do get a starter and a bottle of wine or some chocolates thrown in so it's good value for money.
According to M&S, you could save up to £16.50 if you go for the priciest menu items available in the Valentine's Day Dine In deal.
Below is a complete list of what's on the menu, or you can take a look at this dedicated M&S page.
Ardent M&S fan? Take a look at our roundup of every M&S meal deal offer so you'll know what to keep an eye out for when you're next in-store.
Leek and cheese souffle tarts (V)
Coquilles St Jacques
Luxury prawn cocktail
Plant Kitchen vegan duck croquettes (Ve)
Oak-fired melting Camembert (V)
Duck parfait with plum glaze
'Pie love you' chicken pie
Salmon and prawn en croute
Chicken parmigiana
Duck breasts in plum sauce
Rack of lamb with a mustard, honey and herb crust
Rump steaks with peppercorn sauce
Sirloin steaks with heart-shaped butter
Plant Kitchen aubergine steaks with miso and ginger (Ve)
Extra fine asparagus (Ve)
Green vegetable medley (Ve)
Our Best Ever mac and cheese (V)
Frites (V)
Sweet potato fries (Ve)
Buttery mashed potato (V)
Dauphinoise potatoes (V)
'I'm bananas for you' desserts (V)
Love heart churros (Ve)
Love heart macarons (V)
Raspberry profiteroles (V)
Billionaire's pots (V)
'Nuts about you' cheesecakes (V)
Mini cheese selection (V)
Chocolates
Drinks
Echo Leyda sauvignon blanc
Sauvignon IGP Loire
Classics Touraine sauvignon
Les Beauchamps chardonnay
Valdemadera Gran Reserva
Norton malbec
Conte Priuli prosecco (Ve)
Conti Priuli Veneto blush
Conte Priuli rosé
Not an M&S regular?
Head this way for our weekly round-up of the best supermarket deals from Aldi to Waitrose instead.
Want more stories like this? Head over to the loveMONEY homepage, follow us on Twitter or Facebook or sign up for our newsletter and let us send the news to you!
Be the first to comment
Do you want to comment on this article? You need to be signed in for this feature