M&S Valentine's Day Dine In meal deal special: what's on offer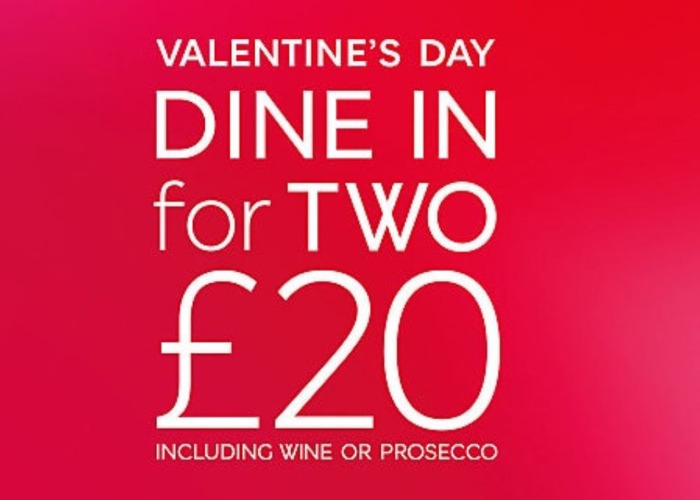 The M&S Valentine's Day Dine In meal deal will set you back £20. This year, it'll be available until 16 February.
Unfortunately, the M&S Valentine's Day meal deal won't be back until February 2020. If you're after a cheap meal deal, why not take a look at Tesco's £10 Finest offer?
If you're an ardent M&S fan, take a look at our roundup of every M&S meal deal offer so you'll know what to keep an eye out for when you're next in store.
Marks & Spencer has replaced it's normal Dine In meal deal with a special Valentine's Day offer.
Unlike the traditional deal, which offers a side, main, dessert, and bottle of plonk, you'll also get a starter and some heart-shaped chocolates (obviously) thrown into the mix.
Sadly, it's also more expensive at £20, almost twice the normal Dine In offer price of £12.
The special is available in stores now and will run until Saturday (16 February).
Here's a complete list of what's on the menu for Valentine's Day 2019.
But first, did you know you can earn points every time you buy anything from M&S with this credit card? You'll even get a welcome bonus worth £5 just for applying.
Not for you? If you fancy home cooking, visit our sister site loveFOOD for some brilliant recipe ideas.
Earn cashback when you shop: compare top credit cards now
Coquilles St Jacques
Salmon & king prawn stacks
Cheese & leek souffle tarts
Gastropub camembert with chutney
Gastropub runny Scotch egg
Salmon, prawn & avocado starter
Vegan sweet potato falafels
Rump steaks with peppercorn sauce
Pork shoulder with honey
Sirloin steaks with ehart butter
Gastropub beef Bourguignon
2 baked ricotta steaks
Turkey paupiettes
Butterflied seabass fillets
Gastropub lamb shanks
Valentine's heart peppercorn steak pies
Gastropub chicken & prosciutto
Roasted mushroom stroganoff
Potato rosti
Spinach, pea & samphire
Garlic mushrooms
Dauphinoise potatoes
Tenderstem asparagus spears
Cheantennay carrot & parsnips
Frites
Asparagus extra fine
Truffled cauliflower cheese
Triple-cooked chips
Parmesan mash
Profiterole stacks
2 billionaires desserts
Apple & almond slices
Toffee tarts
Twin heart chocolate dessert
Vibrant macaroons
Strawberries in heart-shaped punnet
Not an M&S regular?
Head this way for our weekly round-up of the best supermarket deals from Aldi to Waitrose instead.
Earn cashback when you shop: compare top credit cards
Want more stories like this? Visit the loveMONEY homepage or sign up for our daily newsletter and let us send the news to you!
Be the first to comment
Do you want to comment on this article? You need to be signed in for this feature