How to ditch your letting agent: what you need to know about finding tenants, handling repairs and more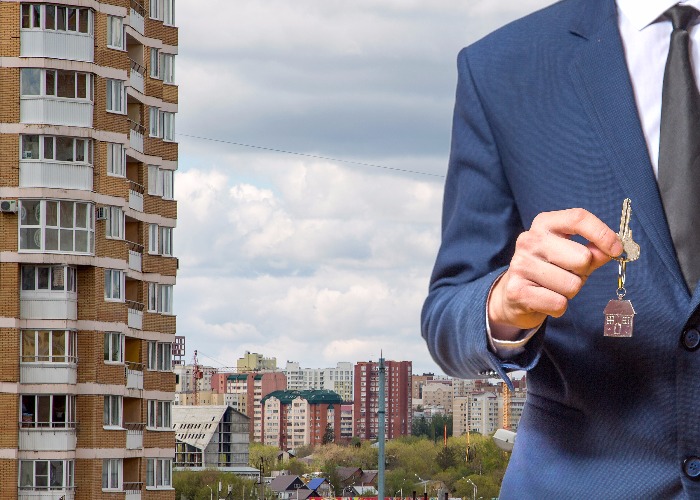 Here's how you to break away from costly letting agents and still successfully find good tenants and manage your property.
Letting agents are a positive force in theory: they find you tenants, do your background checks and help you save time in managing your property.
On the other hand, they cause a lot of headaches with delays and unexpected fees. In fact, letting agents tend to be one of the biggest costs that landlords shell out for.
We bet you've had the feeling of wanting to do away with your letting agent for good at least once or twice. For some it just takes confidence to leave.
Calum Brannan, founder and CEO of No Agent, reveals his top tips to help you go it alone as a landlord.
Fight the fear
There's a lot of apprehension when it comes to parting with your letting agent, as Calum explains:
"Breaking away [from letting agents] seems to be the most difficult. It's like a bad relationship – you know you need to break up but you're just trundling along.
"Letting agents know their days are numbered, you know their days are numbered, but with landlords there's a fear of not being able to pick up the phone anymore".
People are often locked into expensive contracts which cost even more to get out of, another major barrier to escaping their agent.
Do more of the legwork yourself
It seems obvious, but it's true. You can take some of the responsibility from the letting agent and do it yourself to save some pennies.
You could use a tenant finder, do your own credit checks, source your own contractors and more.
Go digital
However, if you're not able to take up all of the slack from the letting agent, you could try an online service.
No Agent provides a host of essential services from finding a tenant right through to rent collection and managing repairs and inspections.
It also comes with a range of optional extras like marketing photography, gas safety checks and Energy Performance Checks (EPCs) for between £10 and £108.
But as we mentioned before, you could handle these extras yourself.
"Landlords have already done a lot of the hard work; they've started to build up a profile. That's what we expect for some of the cost reductions," says Calum.
No Agent has no mark-ups or commissions on repairs so the price that it's quoted is the price that's passed on to landlord, another plus.
Instead, the app covers you for a flat fee of £35 per month (or £45 a month in London).
Get clued-up
"Educating yourself is the biggest defence. Most things that rack up costs for landlords are things they're not aware of," says Calum.
He adds that many landlords may never have had to evict a tenant, for example.
A solid understanding is important too, in terms of what type of tenants you want and where will they come from, setting the correct rent price and a general understanding of what you need from a letting agent:
"They traditionally try and alleviate some pain to reduce costs by doing comparables but I guess it's more skewed towards greed and the contractors they use are the ones that give them the best kickbacks.
"It's really about understanding what extra costs are hidden below the advertised price of letting agents."
Join a Landlords Association
The Residential Landlords Association and the National Landlords Association are invaluable sources of information, advice and forums with fellow landlords. You get access to their free advice helplines too.
Landlords never stop learning, either. Calum says many landlords he spoke to at a recent property show were interested in learning more about Right to Rent.
Compare buy-to-let mortgage deals with loveMONEY
Go to landlord shows and exhibitions
Landlord shows happen all through the year in the UK and can prove invaluable to both new and experienced landlords.
Calum's personal favourite is the Property Investor and Homebuyer Show:
"It's not just about estate agents, it's a whole host of different service providers, from air vents to damp solutions right through to buying property in Thailand."
Head online
As well as talking to other landlords, the web is full of useful info. Have a look at:
Local Facebook groups – search 'Landlords in' followed by your city or town's name;
Webinars, some of which are free;
Your nearest Property Investors Network (PIN) meeting.
It may take a little more digging, but the good ol' Government is a one-stop source too:
"The Government has a lot of information, it just tends to be hidden away. The Gov website is amazing. There's not a lot you can't get on it – a model AST (assured tenancy agreement) is even there if you look hard enough.
"It all comes down to trusting the information that you're given," says Calum.
Find the right contractors
There are services like Plentific which will put bids out for contractors.
Calum recounts a scandal last year when Foxtons charged £90 for changing a lightbulb: "Sometimes letting agents just want the commission".
He likes a more familiar comparison too:
"I'm a big fan of Google Reviews. It's a non-paid environment. Google Reviews is people going out of their way to Google that person – and it's a lot harder to get good reviews than bad reviews."
Failing that, just ask around.
Compare buy-to-let mortgage deals with loveMONEY
The one thing you should really invest in
Putting effort into marketing photography is essential:
"Make sure the lighting's right. It's your property you want to sell and you want people to be excited about viewing it. You show your mum when you get home 'this is the property we put an offer in on!'
"Landlords who want to scrimp on photos are probably causing themselves more in void periods and tenants who could have stayed for a really long time."
Know how to spot a bad tenant
Look out for the telltale signs of a bad tenant:
"Normally in the early days, it's the not wanting to disclose too much information, the delay around references. But it's the data that really spots the dodgy tenant."
That's why it's vital to carry out the right credit check as well as getting hold of references from previous landlords and employers.
That said, Calum concedes that it's sometimes difficult to tell.
"You could have a hospital consultant who grows weed in his attic in his spare time."
For more tips, read Buy-to-let: how to avoid troublesome tenants.
Keep money aside in case something goes a bit wobbly
In the event of a tenant not paying their rent, wrecking the curtains or a pet cat that chews up the couch, it's best to have a reserve fund in place to deal with the damage.
"The cost can run into thousands. Sometimes it's not even that – it's the emotional stress," says Calum.
"As a landlord, you should always keep a months' rent aside for unknown repairs. It's good business sense to try and keep afloat."
Compare buy-to-let mortgage deals with loveMONEY
Read more:
6 ways to beat the Government clampdown on landlords
Buy-to-let 'mis-selling scandal' – have you been caught out?
Buy-to-let landlords face more pain
Be the first to comment
Do you want to comment on this article? You need to be signed in for this feature