Cheap and free Christmas activities for kids!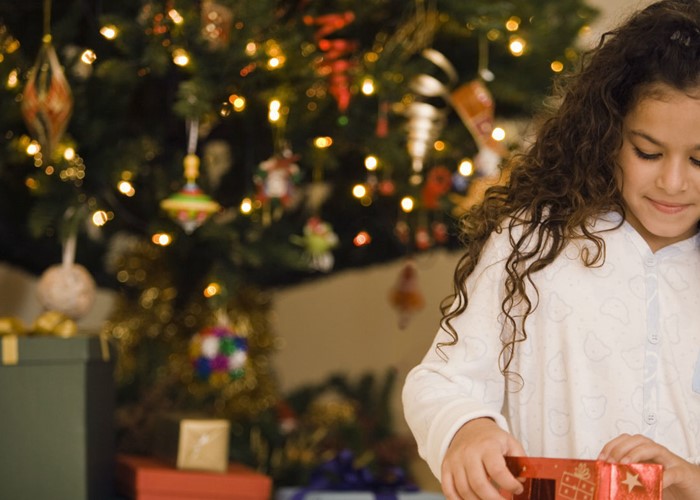 Have fun with the kids on a budget – find out how they can make decorations, knit teddy bears, make gifts such as chocolate truffles, or even visit Father Christmas (and receive a gift) for free!
If your family is suffering the effect of the credit crunch, spending hundreds on frivolous festive luxuries is out of the question - but of course, no one wants the kids to suffer.
But the good news is, if you've got the time and inclination, there are loads of fantastic activities and events on all over the country to entertain the kids that are free, or cost very little.
So check out my favourite ideas below – and save a bundle this Christmas:
1. Visit Father Christmas
Most kids love the annual tradition of visiting Father Christmas, but at a fiver a pop (and sometimes as much as £15) this can be frighteningly expensive, especially if you have more than one child.
The good news is there are a number of men in red appearing at shopping centres all over the country that can be visited for absolutely nothing, with some even giving free gifts!
For example, if you're heading to Winter Wonderland at Hyde Park, visiting Santa's grotto won't cost you a penny. It won't cost you anything to check out Lakeside's grotto either, while I've also found free grottos in Newcastle's Metrocentre, the Merrion Centre in Leeds and Duke of York Square in London,
2. Check out local events
There are loads of fantastic festive events all over the country that are absolutely free.
Check out your local council, or the Free-events and Kidsguide websites to find out what's on locally. And if you sign up to your local Netmums group you can see the events local mums have listed – many of which may not be advertised elsewhere.
3. Make decorations
For a quieter activity, why not get the kids to make some festive decorations?
Print and colour these ideas from CBeebies, or get your kids making their own Christmas ornaments.
Or why not bake and decorate your own delicious edible decorations - I definitely plan to help my children make some of these.
4. Visit the library
If you're not yet a member of your local library you're missing a trick. Apart from the weekly story telling and Rhymetimes many libraries will be holding festive fun days with face painting, games and craft activities in December – and all for free.
Check out your council's website to see what's on at your library.
5. Make presents
Why not encourage your kids to make their gifts this year instead?
If they are a dab hand in the kitchen, why not help them to make Christmas pudding biscuits, cranberry cupcakes or these lovely vanilla sugar cookies.
Older children could try their hand at knitting teddy bears, making festive Christmas dishes or even have a bit of fun and try crocheting a designer handbag for a friend?
Or they could get busy with the printer and fill an inexpensive photo album with pics of themselves from birth onwards - sure to be a hit with doting grandparents.
6. Get a free video message from Santa
What could be more magical than a free video message from Santa himself! Simply head to the Portable North Pole and follow the instructions.
7. Got to the theatre
One thing I'm shocked by is how expensive taking a family to see a humble panto can be. With tickets for some performances at £22+ per person, a family of four could find themselves nearly £90 lighter after booking - yikes!
Instead, ask in smaller venues about lesser-advertised Christmas plays and shows - with tickets starting at a far more reasonable £6 a head your wallet should certainly feel a bit heavier!
8. See where Santa is
And finally, my favourite free tip needs to be saved until Christmas Eve.
Log into the North American Aerospace Defense Command (NORAD) website and you'll be able to track Father Christmas as he leaves the North Pole and makes his way to chimneys all over the world!
Happy Christmas moneysaving!
This is a classic lovemoney article which has been updated
More on money and Christmas:
Be the first to comment
Do you want to comment on this article? You need to be signed in for this feature