The best cheap Mother's Day gift ideas
Do you want to save this article to read later? You need to be signed in for this feature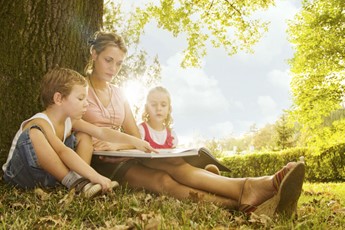 Take a look at our top ten present ideas to impress mum on her special day, without breaking the bank.
Can't figure out what to get your mum for Mother's Day? Here are a few ideas to get you started, none of which will cost you a fortune!
Homemade
Nothing shows you care more than a homemade gift - whatever the result!
Try your hand at cooking up a feast or some nice cakes to give to mum on the day. You can get some inspiration from our sister website Lovefood.
Or if you're feeling really creative you could make a gift that she can treasure forever and show off to all her mum-friends.
You could try making a key ring with a special message that she can carry everywhere. Or a nice photo memory book with lots of family pictures. Get a helping hand online with Photobox, which is offering 25% off on orders over £20 with code LOVEMUM.
And a nicely thought out hamper of goodies always goes down well. Fill it with her favourite DVDs, CDs and treats to show off how much you know about her.
Gadgets
We all know mums are superheroes in disguise, but even they need their gadgets.
Joseph Joseph has some pretty cool tools to make life easier in the kitchen. The Elevate Spatula, available for £9.50, is designed to always raise the head of the spatula off the surface when out of use, meaning you avoid any unnecessary mess when cooking.
You could also try this Telepen that can attach to a key ring for £6.45 from geniegadgets.com or a key ring mobile phone charger cable for £3.95 from gadgets.co.uk.
Cookery class
A cookery class is a hugely enjoyable gift. And if you go along too it's a great way to bond with your mum!
You could try anything from learning how to cook a selection of curries to baking and icing cupcakes, and courses are available for all skill levels.
To find a course that suits your budget try Virgin Experience Days or check out daily deals sites like Groupon, Wowcher or KGB deals.
But also keep a lookout at your local restaurants for any classes that might be coming up.
Get her colours done
An appointment with a colour expert will help your mum discover what colours suit her skin tone and what sort of outfits she should go for.
This is a present that keeps on giving as she can take away a personalised colour chart along with hints and tips to help when shopping in the future.
A colour analysis could be the perfect gift for new mums trying to get back to normal as well as old mums wanting a new look.
Try Colour Me Beautiful or House of Colour for packages. Prices start from £95.
If getting a session is a bit out of your price range you can try a DIY approach. Get a colour analysis book and go through her wardrobe with her commenting on what suits and what doesn't – after all it's always good to get a second opinion!
Afternoon tea
Treat your mum to an afternoon tea to get into her good books.
There are loads of places to try and the outing can cost as little as £15 per person.
You can find some unusual afternoon teas and brush up on the art of afternoon tea etiquette on Lovefood.
Or for a personal touch (and to save a bit of money) you can create your own afternoon tea experience. You just need a cake stand and a tea pot set, plus some tea, little sandwiches and mini cake treats.
Spa day
Mother's Day is about making mum feel good and showing that you appreciate all the hard work and running around she does for the family.
So give your mum the gift of some 'me' time with a spa day.
You can find great discounts on spas in your area on daily deals sites like Groupon, Wowcher or KGB.
Alternatively, if you can't find a good deal within your budget you could get a pamper set for her to enjoy at home. Try the Sanctuary Spa Deluxe Sanctuary Hamper from Boots on offer for £19.
Scented candles
It seems like a small gift to mark the day but if your mum tends not to spoil herself then a scented candle could be perfect.
If you have a lot to spend go for a Diptyque Candle - a 190g one costs £40 from Selfridges & Co and has a burn time of around 60 hours. The candle comes in a variety of scents but Bais is the most famous one and regularly sells out, so be quick!
But if you're on a budget then go for the Yankee Candle. This brand also comes in a range of scents and for a 623g candle you pay just £19.99 for over 100 hours of burn time.
Personalised
There's nothing better than getting mum something personalised for her to show off and display around the home.
Lots of websites now offer a personalisation service like I Want One of Those and Not on the High Street.
Try this bespoke poster print of 'likes' for £38 from Not on the High Street or this family history gift tin for £13.99 from I Want One of Those.
Tickets
A present that your mum can look forward to is sure to earn you brownie points and getting tickets to something they might enjoy is a good way to go about it.
A night at the theatre doesn't have to cost the earth. Read our guide to getting cheap tickets: Cut the cost of theatre tickets.
Or if your mum is more musical you can check out the latest gig listings on Gigs and Tours to see if any bands will be in your area in the near future.
Alternatively you can check daily deals sites like Groupon for discounts on tickets to things like the Ideal Home Show.
For a list of free events check out allgigs.co.uk to see what's happening in your area.
Gift vouchers
Mums tend not to spend a lot of money on themselves. So why not treat yours to a gift voucher at her favourite store so she hasn't got any choice but to!
Be wary though, with many retailers going into administration a gift card isn't a safe bet. Read: Gift cards that are safe from retailers going bust to see which are protected.
Alternatively you could give a voucher that doesn't hold a monetary value but offers your time instead.
More on shopping:
Poundland versus Asda, Tesco and Sainsbury's
Quidco's ClickSnap supermarket shopping tool reviewed
Top Cashback's Snap & Save supermarket shopping tool reviewed
The true cost of not shopping around for car and home insurance
Stuffster: new online shopping website that offers discount alerts
PayPal Here means we'll soon be paying with card at the market