Frugal Christmas gifts for kids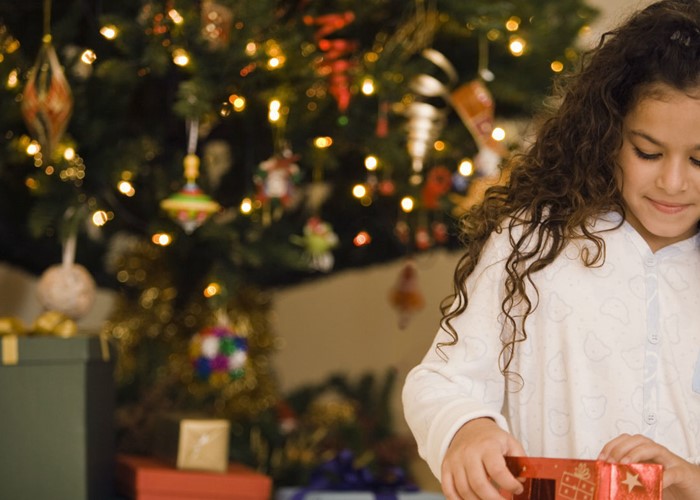 Keeping the cost of Christmas to a minimum? Then don't miss our round up of the best budget Christmas gifts for the children in your life.
Toys and board games

Under £5
There are plenty of toys for under a fiver at Home Bargains (use the store locator). Get Hello Kitty Memory Cards for £2.99 (RRP £6.99), the WowWee Light Strike Rapid Fire System for £2.99 (RRP £9.99), Bizu Style Studio Twist-on Beads for £3.99 (RRP £21.99), this Light Fever Red Motion Lamp for £4.99 and ZhuZhu Babies Newborn Nursery for £4.99 (RRP £22.99).
Under £10
Dolls are a tricky one and the biggest sellers this year are eye-wateringly expensive, but beyond the big brands, you can find some good prices at the supermarkets. At Tesco it's 3 for 2 on Emmi dolls and accessories so you could buy this My First Baby for £3.50, a stroller for £4.97 and get a nappy change pack for free!
And at John Lewis I couldn't resist the colourful Elmer the Elephant toy for £8.95 and this Gruffalo 24-piece floor puzzle for £7.95.
Halfords also has some decent toys for kids under £10 including the Nebulus Scooter (available in both pink and blue) for £9.99 – buy a Scootrix Sticker pack for £2.99 in-store so they can customise it too!
Under £25
Interactive toys can cost an arm and a leg but Argos is a safe bet for some of this year's popular toys including the Talking Ben Animation Talk Back, costing £19.99, and the Singalongz, now £24.99 (RRP £29.99). You can also save 25% on Sesame Street Tickle Elmo, now £22.49 (RRP £29.99), get £3 off this Jiggle 'n' Dance Flufflings Soft Toy, now £19.99 (RRP £22.99) and save £6 on Mickey Mouse Clubhouse Bedtime Rocket, now £18.99 (RRP £24.99).
Bits 'n' Bobs
Under £5
Don't miss out on the offers at Lidl this week. From Thursday 20th December, check your local store for kids' Heroes and Princesses with a Spider-Man Knitted Set and Pink Minnie Mouse Knitted Set, both with hat, scarf and gloves for £4.99, Kids' Fleece Blankets (Spider-Man or Disney Princess) also for £4.99 and in the same range, you can buy a Kids' Wall Clock (four characters to choose from) for just £3.49!
Under £10
Buy your Mooshi Monsters and Hello Kitty for less Co-operative Pharmacy (find a nearby branch here). This Hello Kitty sleeved fleece is £5 and the alarm clock is £4, while the Moshi Monsters 5 Day Bubbles Gift Set 50ml is only £3. Other gifts for kids include a Cozy Plush Microwavable Bagpuss for £8, Spiderman 3D Bubble Bath 300ml for £4 and a Jelly Belly Assorted Tin Set for £5.
Under £25
Argos has knocked £10 off Trunki suitcases, now from £24.99 and available in a variety of funky colour. A great way to get the kids pulling their own weight, or just give them something fun to ride on!
Arts, crafts and dress up!
Under £5
John Lewis has come up trumps for cheaper Play-Doh – buy a set of four mini tubs for £2, some Super Tools for £2.95 and while you're there, take your pick of dozens of sticker packs for £1 each, buy this Magic Sketcher for £1.25, six glitter glue pens for £3, a mask kit containing 5 wild animal designs for £4 and a pack of six finger paint pots for £5!
Under £10
For young teens who love to primp and preen, both these floral mini hair straighteners and pink mini travel hairdryer have £3 off and are now £7 each at Matalan. And at Sainsbury's (check if you can click and collect) buy the Creations Nail Deco Set for £7.99 and the Aqua Beads New Starter Set for £9.99.
Under £25
Toys-R-Us is cheaper than Amazon for Rapidough – a messy game where budding sculptors have to make something from the dough for their team to guess. Get it for £23.99 (RRP £29.99).
And if you want to stir up some talent, save up to a third on various musical toys at Argos including this pink Chad Valley Singalong Keyboard, Stand and Stool, now £19.99 (RRP £29.99), this Chad Valley Beat Box and this LeapFrog Touch Magic Guitar, both now £14.99 (RRP £19.99) and this WowWee Paper Jamz Guitar, now £7.48 (RRP £9.97).
If you're planning a big Ikea trip, look out for this plain easel which is only £16. And complete the set with a brush set for £2, drawing paper roll for £3 and this paint box for £4.
Be the first to comment
Do you want to comment on this article? You need to be signed in for this feature