You don't need a degree: top alternatives to university
Do you want to save this article to read later? You need to be signed in for this feature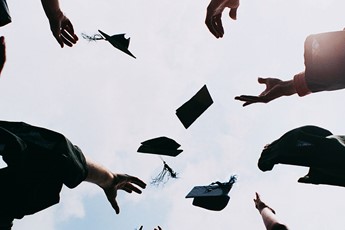 As the number of people planning to go to university plunges, we look at the best alternatives to getting a degree.
The number of UK students applying for university places has fallen 8.9% in the past year, according to the admissions service, UCAS.
The highest drop of 10% was from English students, who will be the first to face yearly fees of £9,000 this autumn, and the numbers were also down for other parts of the UK with a 2% drop in Scotland, 3% in Wales and 5% in Northern Ireland.
When the new fees kick in, graduates in England can expect to leave university with average debts of around £40,000, when taking into account tuition fees and general living costs.
Add to that an unemployment market where one in five 16-24-year olds is out of work and the prospect of spending three years studying and ending up with a crippling bill seems rather less appealing.
So if you don't head off to university what other options are available?
Take a gap year
If you've always dreamed of lying on a beach in Thailand or sky diving in New Zealand then taking a gap year is a good way to tick these ambitions off the list.
However, grabbing your backpack and heading half way around the world doesn't come cheaply and if you want to go travelling you'll need to have the funds to do so. Unless you're expecting a lottery win, a job is the only way to go and our guide on how to find one is packed full of advice on where to start.
There are also lots of work placements available where you can travel and earn a living ranging from working in a hostel or picking fruit to spending a season at a ski resort.
Teaching in another country will also allow you to earn money and learn a new language. To do so most schools will require a TEFL qualification, which can be completed in a short or long course. More details can be found on the TEFL website.
Gain some work experience
Some people are born knowing what they want to do in life and have no problem going from school to university and then into their chosen career path. However, many won't have a clue and that's why getting some work experience is a great way to help you make the right decision as well as looking good on your CV.
Most placements will be unpaid and last an average of two weeks. The best way to get started is to call the company and find out who you need to approach.
Once you have a name, send a letter or email and follow this up with a phone call if you don't hear anything back. This is a good time to try out a few different careers so you can decide what you are good at what you don't like. It's also a great way to build up contacts and get career advice.
Start an apprenticeship
If you are looking for a job where you earn while you learn, an apprenticeship fits the bill. There are hundreds to choose from, be it engineering, financial advice, veterinary nursing or accountancy, and most take between one and four years to complete.
The main benefit of an apprenticeship is you'll receive training, gain qualifications and learn job-specific skills while earning a living. Our article on where to find apprenticeships and training schemes will give you more details, while a full list is available on the Apprenticeships UK website.
Volunteer
Volunteer work, both in the UK and abroad, is not only a worthwhile thing to do but it's also a key way to build up your CV and a good route to employment. There are lot of opportunities to choose from, be it working for the RSPB or The National Trust or giving your time with the Criminal Justice System. A full list with advice on how to apply can be found on the Volunteering website or Do-IT.
Most positions will be unpaid (apart from expenses), so you'll need to be able to fit the time around other paid work. However, there are full or part-time positions available, with week day, evening and weekend shifts, so it should be possible to arrange a time to fit your schedule. If you're looking for something further afield, websites such as Bunac or Original Volunteers list international placements.
Get a job
When you finish school, be it at GCSE level or after A-Levels, the grim reality is it's now time to get a job and start on the career ladder. However, don't let headlines of doom and gloom in the job market dampen your spirits. Although competition is fierce for every job going, if you arm yourself with the right tools and information you'll be ahead of the game.
Although traditional job centres on the high street are still around, more employees are now moving online so do your research and spend some time working on your online profile.
There's also plenty of advice online such as our articles on making sure you have the right CV and how to succeed in an interview to help you secure a position.
What do you think? If you were a young person, would you go to university or pursue an alternative? Is a degree essential? Let us know your thoughts in the comment box below.
More on jobs: